Reg hack runs Windows 8 on 82-inch touchscreen
Size matters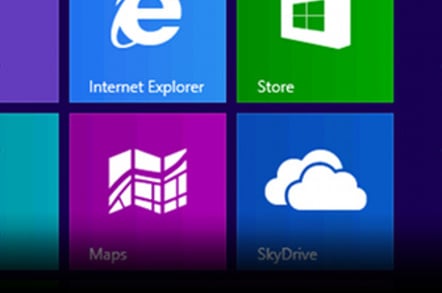 TechEd Australia Back in July, Microsoft acquired a company called Perceptive Pixel which makes 82-inch capacitative multi-touch screens.
Here at TechEd Australia, there are a couple on display running Windows 8.
We couldn't resist the chance to have a play with one, to see what The Interface Formerly Known as Metro feels like when running on a colossal screen.
The visual and audible results, shot by a very helpful Microserf on a Californian telephone that as of today is two generations out of date, are not stellar.
Because the quality of the vid is so moderate, it's worth explaining what's going on.
I start with The Reg on-screen in IE10, then reach across the left hand side of the screen to open what Microsoft calls the "Charm Bar", a persistent navigation toolbar that's always just one poke away.
The tricky thing about the Charm Bar is that you need to hit one of the pixels in the right-most column on the screen. That's easy on a tablet or conventional touch screen if you swipe in from the left, but tricky to get right on the 82-incher because it has a thick bezel that makes it hard to get a finger in to find that single column of pixels .
Luckily I got it right first time, bringing me into The Interface Formerly Known as Metro (TIFKAM). From there it's a simple matter to mash on an icon and get down to some serious slicing in the Australian-made game Fruit Ninja.
From there, another tug produces the Charm Bar again, which takes us back to TIFKAM where a mash of the Desktop icon brings us back into the familiar Windows desktop.
The screen draws lovely big dots around each finger, which is pretty if not very useful.
That's a rough guide description that, when matched to the video, will hopefully give you an idea of what it's like to use a monitor the size of a child's bed.
If the video above has you salivating at the prospect of a monitor with these colossal dimensions, prepare to shell out US$80,000.
Prepare also for Microsoft to talk unified communications to you, as the acquisition of Perceptive Pixel was initiated by its Lync division rather than by a desire to run Windows 8 on colossal scale. ®
Sponsored: Minds Mastering Machines - Call for papers now open