New de-Googled software
As you might imagine, the iPhone 5 will ship with iOS 6, and Apple iOS headman Scott Forstall was more than happy to go over its high points onstage at the San Francisco event.
One of its new features, as had been reported previously, sticks a finger in the eye of Apple's rival Google: a new version of the Maps app produced by Apple and featuring such niceties as turn-by-turn direction (supported by TomTom), fly-overs, easy camera-angle changes, and 3D buildings.
You can now post to Facebook or tweet directly from Notification Center, web pages in Safari can now be displayed ion a full-screen mode, and browser tabs can be shared among your devices over iCloud. Mail now includes the VIP feature found in Mountain Lion, which lets you elevate chosen message-senders to special status, separating their message from those of the common rabble.
Forstall also demoed iOS 6's Passbook app, which allows you to keep all your digital tickets, coupons, airline boarding passes, and the like in one app. One "cool thing" about Passbook, he said, is that even if your phone is in lock mode, a time-sensitive item such as your boarding pass will appear on the lock screen so TSA can scan it and get you on board that flight to grandma.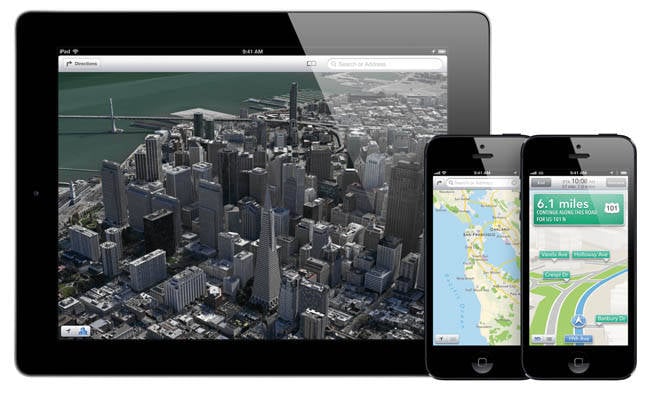 iOS 6 will also run on existing iDevices ... well, some of them, at least
He also promised that Siri has been upgraded to better serve you, adding intelligence on sports, the ability to launch apps with voice commands, provide movie info and listings, make restaurant reservations, and post to Facebook. After the disappointment of the original "beta but not really beta" Siri, we'll wait to take the new gal out for a ride before we believe Forstall's promises.
If you've been successfully seduced by Schiller and Forstall, you can put in your pre-order for an iPhone 5 beginning this Friday, September 14. Shipments will begin on September 21 in the US, the UK, Canada, France, Germany, Australia, Japan, Hong Kong, and Singapore, with 21 more countries added in another week, and 100 countries by the end of this year.
In the US, the phone will be available at three prices and RAM levels: $199 for 16GB, $299 for 32GB, and $399 for 64GB, all with a two-year contract. Carriers may also offer a 16GB iPhone 4S for $99, and an 8GB iPhone 4 for free. And speaking of older iDevices, iOS 6 will be available on September 19 for the iPhone 3GS, 4, 4s, new iPad and iPad 2, and the 4th-generation iPod.
By the way, the next time you're in Eritrea, make sure to tell Bob what he missed. And possibly slip him your now out-of-date iPhone 3G or original iPad. ®
Bootnote
Apple has no love for The Reg, so we're never invited to their soirées. The info we reported in this article came from the live blogs of Ars Technica and AnandTech. Thanks, guys 'n' gals.
iPhone 5: skinny li'l fella with better display, camera, software
COMMENTS
There really is no NFC?
Wow, this is a bigger piss take than letting the fanbois think they were getting the iPhone5 last year then just giving them the same one with an "S" at the end.
Seriously - this is what they call innovation?
Its a larger screen, of the kind the Android handsets had 2 years ago.
Its got LTE, of the kind Android handsets had well over a year ago.
Its cameras and speed now match the Android handsets from a year ago.
Its adapter has changed from one proprietary format to another just to take the piss.
A bundled app found on every platform over the last 2 years to stick photos together is trumpeted as a huge breakthrough.
And existing apps look shit because they only stretched the screen in 1 direction, and are new to fragmentation unlike Android which has been dealing with this for years.
This could almost make microsofts offering look good.
And?
As an iPhone user I say UNDERWHELMING, I cannot see a need to upgrade my 4S at all, the comparison spec sheet on the Apple site confirm what I know.
If I was Samsung, I'd be extremely fscked off. The new iPhone is a blatant copy of the Samsung SII.
Re: And?
Maybe not a good upgrade for your 4S, but it looks like a nice replacement for my 3GS!
You don't *have* to change your phone every 12 months!
So with the release of the iPhone 5 Apple are finally admitting that the glass back idea was stupid, the screen was always too small and a proper 16:9 aspect ratio is better.