Windows 8? Nah: Win Phone 8 should give Apple the fear
Tiled phone, not PC, could put Redmond on top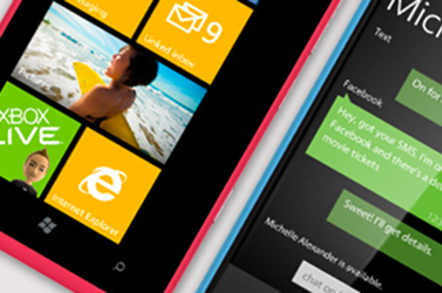 Open ... and Shut Windows Phone 8 might spell the beginning of a climb to relevance for a desktop vendor breaking out its latest PC operating system at almost the same time.
Why will Windows Phone 8 mean more than Windows 8? Not because Windows Phone 8 is groundbreaking. And not because its user experience compels adoption. While Windows Phone 8 is an impressive step forward for Microsoft, its biggest selling point is that it's not iOS and not Android.
Who would have thought Microsoft could win by not being one of the winners?"
It's not likely that Windows 8 is going to move the needle for Microsoft in the personal computer market. At least, not in the way that it would like. Intel's recent earnings call suggests that, if anything, the PC market is going to stutter in the wake of the Windows 8 launch. It's simply not a compelling upgrade for consumers, and poses serious user experience challenges for enterprise IT departments.
Microsoft will likely maintain its desktop market share, which still hovers at 92 per cent according to NetMarketshare data.
The bigger issue is how much of that market is being cannibalised by the growing tablet and smartphone markets. Given how weak Android has been in the tablet market, Microsoft may actually stand a chance of becoming the cheaper alternative to Apple's premium iPads, but the smartphone market is where Microsoft must win, because it offers the lowest price points and highest customer churn rates.
And in the smartphone market, Microsoft actually stands a chance.
Some argue that Microsoft's big differentiator in the smartphones game is a superior claim to user privacy. I'm not buying that, and I don't think the average consumer will, either. Security doesn't sell. Like back-up, it's something we expect but not a feature for which we're necessarily willing to pay.
No, the real Windows Phone 8 advantage is actually that it's not iOS or Android. A few months ago, this would have been its undoing. Apple dominates mobile profits while Android dominates market share. Given that Microsoft can't license iOS, industry pundits clamored for Microsoft to adopt Android.
With Apple's thermonuclear patent war against Android, however, the Android ecosystem will be feeling less than secure in sticking with the open-source market share leader, as Gartner analyst Carolina Milanesi posits:
I am sure that vendors in the Android ecosystem are wondering how long it will be before they become Apple's target. This might sway some vendors to look at Windows Phone 8 as an alternative, and for the ones like HTC Corp and even Samsung, who have already announced plans to bring to market a WP8 device, how much stronger their investment should be.
It's a lame reason to win, but as Android vendors seek shelter from the Apple storm, Microsoft's Windows Phone 8 is going to be the most likely safe haven. Microsoft has engineered an impressive WP8 product, but it's going to take market share because it's not a legal black hole. It's also going to rise because the same vendors who jumped to Android to subdue Apple's rise are going to view Microsoft in the same light.
Microsoft already has HTC and Samsung announcing WP8 phones, and Nokia, of course, is all in on WP8. Nokia is getting good reviews of its Windows-Phone-8-based Lumia 920, which isn't enough to declare victory, but it is enough to suggest that Windows Phone 8 increasingly seems like the safe bet against Apple while Android's legal status is muddied by Apple.
It's an ugly way to win, but I suspect Microsoft won't mind. Winning ugly is still winning.
Of course, it could be that Android's legal troubles won't slow its rise. After all, the legal uncertainty around Linux back in the 2000s, fostered by Microsoft, ironically, didn't do anything to dampen Linux's growth.
But I think this is different. Linux grew in the enterprise because it was driven by individual developers just trying to get their work done. Legal risk wasn't a big deal for them, even if their chief information officers may have felt differently. In this case, however, the "developers" in question are billion-dollar handset manufacturers and telcos for which legal risk is a very big deal.
Microsoft has been moribund in mobile for a long time, but its most important attribute at this point may be that it still exists. Yes, it has built a compelling UX, but no, that's not really going to make it win. That's just the ante that allows it to play the game when Android falls – and the Android ecosystem still needs a hedge against Apple. It could prove to be enough. ®
Matt Asay is senior vice president of business development at Nodeable, offering systems management for managing and analysing cloud-based data. He was formerly SVP of biz dev at HTML5 start-up Strobe and chief operating officer of Ubuntu commercial operation Canonical. With more than a decade spent in open source, Asay served as Alfresco's general manager for the Americas and vice president of business development, and he helped put Novell on its open source track. Asay is an emeritus board member of the Open Source Initiative (OSI). His column, Open...and Shut, appears three times a week on The Register.
Sponsored: Minds Mastering Machines - Call for papers now open