Content convenience squeezes freetards: Swinburne Uni
Auntie's Dr Who experiment shows the way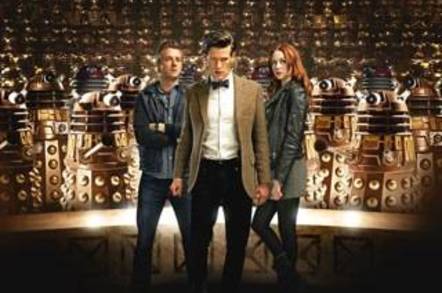 The success of the ABC's decision to offer an iView stream of the new Dr Who in step with its broadcast in the UK suggests how content owners could squeeze out P2P – and it comes at a time when new research suggests that P2P usage is already starting to decline in Australia.
Australians may well be on their way to relinquishing our crown as "world's worst freetards", according to research from Swinburne University. Swinburne's ARC Research Centre of Excellence for Creative Industries and Innovation (CCi) has published its latest Digital Futures report (PDF), in which it finds that in 2011, use of P2P file sharing services had declined to below 2007 levels.
Between 2007 and 2009, the study finds, use of P2P grew from 23.6 percent of respondents to 27.8 per cent – but in 2011, that fell back to 22.6 per cent.
While 78 per cent of the study's 1,001 respondents said the ability to get content for free was important or very important in their use of P2P, a telling 65 per cent nominated the ability to find "hard-to-get" content rated as important or very important.
It's at least feasible, then, that content industries' willingness to provide legal alternatives is finally having an effect.
The CCi study shows a strong adoption of online music stores over the 2007-2011 period that matches the march of the iPhone. Fewer than 17 per cent of respondents in 2007 bought music from online stores, but that figure has now risen to 37.1 per cent.
Video content is now the battleground, with the research revealing an interesting polarization of the audience. In both television watching and movie buying, the extreme ends of responses grew at the expense of the centre. Nineteen per cent of movie downloaders in 2011 said they buy fewer movies as a result of downloading – but 10.5 per cent said their purchases increased (up from 7 per cent in 2007).
The same pattern is emerging in television habits: while nearly 20 per cent of respondents said that they watch less broadcast television in the download era (nearly double the 10 per cent reported from the 2007 study), those who claimed to watch more TV now also nearly doubled (from 4.4 percent in 2007 to 8.2 percent in 2011).
The comparison between music and video is almost irresistible: legal music alternatives seem to be making unauthorized copying less attractive – but in the video world, content owners are only now taking their first baby steps towards putting a legal alternative forward to squeeze out P2P downloads.
Certainly, that approach seems to have worked for the ABC, which decided this year to put Dr Who episodes on iView at the same time as it aired in the UK. Nearly 80,000 early birds hit the "play" button on the first day rather than waiting another six days for the scheduled broadcast. ®