US job market sneezing, blowing nose: Will we catch cold too?
Consultancy up, manufacturing down. Talk, don't do
The way the US economy is adding jobs each month – or rather, not adding a sufficiently large number of new workers – Mitt Romney will be six months into his second term or Hillary Clinton will be a half-year into her first term before the unemployment rate comes back down to levels before the Great Recession hit in December 2007.
The latest jobs report for August from the US Department of Labor was weaker than expected and much weaker on the job-creation front than the economy needs to just keep pace with population growth, much less to make a dent in the 12.5 million people who are looking for jobs and cannot find them.
According to the Bureau of Labor Statistics, which surveys American households to come up with the unemployment rate and American businesses and dices and slices the data to show job gains and losses each month by industry, the US economy created only 96,000 jobs in August. That's about half of level needed to give jobs to people entering the workforce based on population growth alone, and after revisions for prior months, it is on par with the monthly average during the summer and below the average of 139,000 new jobs a month for all of 2012. The BLS now says the economy only created 45,000 net new jobs in June (down from 64,000) and only 141,000 in July (down from 161,000). The vector is in the right direction, but the magnitude sucks.
That said, it helps to remember that in the belly of the Great Recession back in late 2008 and early 2009, the US economy was shedding 650,000 to 750,000 jobs per month, and those jobs have not come back. That's why the unemployment rate is hovering around 8.1 per cent, which is well above the 4.7 per cent unemployment rate that was prevailing before the Great Recession started and close to what economists think of as the structural rate of unemployment given the configuration of the economy five years ago. The question now is this: has the US economy changed so much in five years that there is a new and higher permanent level of unemployment that is in effect because of the difficulty people have in selling their homes to go get new work in some other region of the country?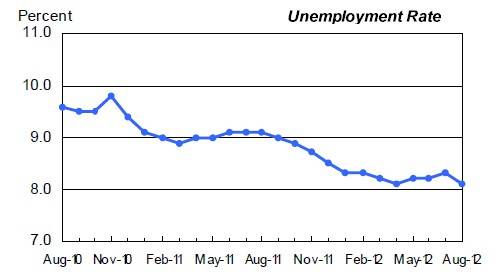 US unemployment rate for the past two years
Non-farm payrolls took a hit as local, state, and Federal employees were given pink slips, and teachers and fire fighters took the brunt of the cuts as has been the case for several years. But with only 7,000 jobs cut in August, the level of public sector workforce reductions is a lot lower than it has been in prior months and years. Private companies added 103,000 workers in August and have added 1.97 million workers in the past year. It could be worse, and it has been. But it is still not good enough.
Companies engaged in professional and technical services added 27,000 jobs last month, a continuing bright spot in the US economy, buoyed in large part by companies engaged in the computer racket. Food services and drinking establishments added 28,000 workers in August and have added 298,000 workers in the past twelve months, so we all clearly need a drink and are willing to pay for it. Healthcare companies added 17,000 workers last month, and utility companies added 9,000 after a labor dispute was resolved and people came back onto the rolls. Despite some of the job losses at big banks and brokerages, the financial services and insurance industry as a whole added 11,000 workers in August. The manufacturing sector laid off 15,000 people.
The BLS doesn't track jobs by type, only by industry, so we can't use this data to get a sense of how the IT portion of the labor force is doing compared to other types of work. But we can pick apart the monthly jobs report to come up with an IT sector proxy. El Reg uses the raw, rather than seasonally adjusted data here, by the way, under the assumption that the raw data is actually cleaner than the fudged data given the weird things going on in the economy that make it not a normal time and therefore seasonal adjustments based on historical data before the Great Recession or during it are suspect.
Within the manufacturing sector, employment among computer and electronic products makers fell by 1,700, with a total of 1.11 million workers. Within this sub-sector, computer and peripheral equipment makers employed 167,900 people, up 900 workers from July according to the BLS. Communications equipment makers cut 900 jobs, to 108,500 people and semiconductor and electronic components makers cut 600 jobs to 389,000 workers.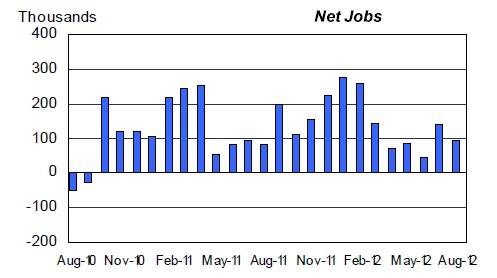 US monthly net new workers since August 2010
In the information sector, telecom companies continue to cut, with 900 people removed from the payroll, which stood at 828,500 workers as August came to a close. But data processing and hosting companies added 1,500 workers and now employ 242,100 people.
In the professional and business services sector, companies engaged in computer systems design as their main activity added 9,700 workers, with the pool of workers at 1.62 million people, and companies doing management and technical consulting, who often have IT aspects to their work, added 10,100 people and now 1.15 million people are at such companies. ®
Sponsored: Minds Mastering Machines - Call for papers now open