Twitter to world: We have NO rivals, ha ha ha!
But will Asia will have the last laugh?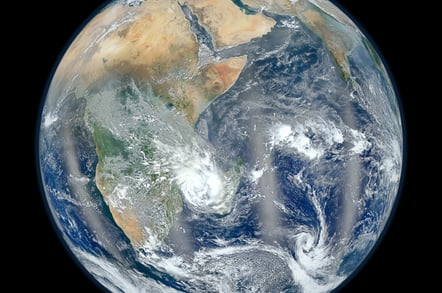 Twitter claimed today that it has no rivals on the world stage, but the US-centric tide of social network growth is being increasingly pushed back by a rising number of innovative Asian players, according to industry experts.
Speaking at the Social Media Matters conference in Hong Kong, Twitter's Japan country manager James Kondo responded to a question on whether the likes of China's numerous weibo microblogs or Tencent's internationally popular WeChat service are seen as competitors to the avian-themed service.
"We offer a unique real-time product," he said. "We're respectful and watching people do innovative things [but] ... there are no global competitors right now."
Twitter, the website that lets people speak their brains in 140 characters or fewer, certainly has a bigger reach globally than its microblog rivals.
While US users still dominate the platform - there's more than 100 million of them - Brazil, Japan the UK and India each have between 20 and 30 million accounts, and there is a sizeable long tail of European, South American and Asian countries, according to figures from January.
China's most popular microblogging platforms from Sina and Tencent have way more registered accounts – over 300 million each – but it's not clear how many of these accounts are actually active, and both services are very much focused on the domestic Chinese market.
However, experts pointed out that US companies are no longer at the centre of global innovation and growth in social networks, no matter how strongly the Silicon Valley bubble might believe it.
Experts singled out services such as WeChat, which now has over 100 million users, as particularly popular in Southeast Asia and parts of Africa, while Japan's home-grown comms service, Line, was also said to be growing fast.
Steve Goh, CEO of social network MiG33, went further, arguing that US firms and investors have been their own worst enemy in the past.
"Silicon Valley has a severe myopic problem – it's in a reality bubble," he said.
"There used to be a view that 'how can anything possibly compete with Twitter and Facebook?' and 'Android doesn't have a chance against the iPhone'."
Esther Dyson, former EFF and ICANN chairman and an angel investor with EDventure, added that, at least when it comes to the smaller VCs, many in the Valley "don't know what's happening in the rest of the world".
It's also no longer the case that local Asian social network firms are copy-catting the ideas of Facebook, Twitter, Google et al, according to Deutsche Bank's head of Asia tech research, Alan Hellawell.
"These Chinese firms have a fantastically competitive DNA. They're very well-run companies," he said. "It's real home-made innovation, which is not what I'd have said five years ago."
Duncan Clark a senior adviser on Chinese social networks at Stanford, claimed that sometimes it seems that China and Silicon Valley are "in parallel universes".
"It's not just China vs Silicon Valley either. A lot is happening in Japan and South Korea which is influencing China," he added.
"Tencent is influencing developments in Southeast Asia more than Facebook – ideas are being passed along due to [shared] local issues, proximity and so on."
This isn't to say, of course, that firms like Facebook and Twitter don't have a massive stake in the future of social networks in Asia and globally.
Regional Asian players like Tencent, Sina and Line may find it difficult to become truly global services and Facebook is still number one in countries like Indonesia, the Philippines and Malaysia and elsewhere, while Japanese users are among Twitter's most active.
"Asia is very important to us. It's where the biggest growth of active users and smartphone growth is," said Twitter's Kondo.
"Asia is going to be at the frontier of what's happening in Twitter – we need to be a smartphone-ready company." ®
Sponsored: Learn how to transform your data into a strategic asset for your business by using the cloud to accelerate innovation with NetApp