Listen up, Nokia: Get Lumia show-offs in pubs or it's game over
Lumia verdict: People, not pundits, will make or break this mobe
Maybe not for everyone, but at least for a lot of someones
No other rival can offer such distinctive differentiators, and both have immediate paybacks for the user. Nokia needs to get these seen. And TV advertising will allow the Finns to go over the heads of the punditry.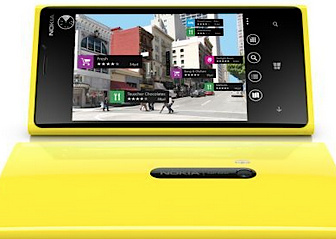 I will add some caveats. The size of the new 920 is substantial, and is not for everyone. Windows Phone remains quite visually forbidding. MetroNotro was inspired by public transport signage, Microsoft loves to remind us, which is quite a functionalist design language. Even in Windows 8, the Tiles look stark, rather bossy, and thoroughly utilitarian. Nobody has such a high regard for Notro as the designers themselves.
It could be tempered and softened and humanised somehow without detracting at all from the merits of the platform. It may seem heresy to say this, but in this reporter's opinion, Windows Phone would not be any worse off for having a 'conventional', grid-like shell. It isn't going to happen, obviously, because Microsoft has staked the visual identity of Windows on the stark, square, 2D Tiles.
In addition, getting Windows Phone right is life or death for Nokia, but not for Microsoft. For Microsoft, it's just another platform, thinly spread over laptops, hybrids, tablets and smartphones. If Microsoft gets Windows Phone wrong, it lives to Tile another day. Nokia doesn't.
It's about individual buying decisions
I left New York convinced that Nokia is a real competitor once again; it's got excellent products in the pipeline. The new Lumia 820 was neglected and barely got 30 seconds of time in the hour-long presentation, but it has most of the 920's appeal plus two features Nokia loyalists have been asked to lose in the iPhone world era: the removable battery and removable media. It's smaller and more pocket-friendly. If you don't like the garish colours, you will be able to find a third-party case that suits you.
If Nokia can't shift bucketloads of the new Lumias, I thought, then it really should go back to selling rubber boots. But it isn't that simple - because of the complex buying psychology I've mentioned above. The 'unique features' must be seen, and the risk factor of leaping to a new platform with no users must be addressed.
But I'm wary of any critical discourse which omits the individual making sensible and thoughtful choices. Reports this week are full of 'platform wars' implying some inevitability to the outcome. It's behaviourist thinking. It's not only lazy, but it underestimates us, the punters. Major shifts in the market are nothing more than the aggregate of millions of individual buying decisions.
I certainly didn't expect to write any of the above on Monday this week, but as Keynes may (or may not) have said: "When the facts change, I change my mind". I decline to give odds either way; I'm not in the prognostication business. But I merely point out that there is nothing 'inevitable' about the outcome of the smartphone market, and as long as Nokia has cash in the bank and can make standout products – which it has started to do again – there could be some surprises yet. ®
Sponsored: Minds Mastering Machines - Call for papers now open