Tape makers strap on skis, glide down slope to oblivion
$169m sales in a quarter - are you taking the piste?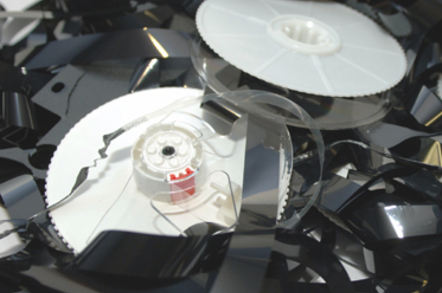 Figures from number-crunchers at Santa Clara Consulting Group show a tape market with no bottom in sight - yet. Increasingly, storage standard Linear Tape-Open (LTO) is the tape market.
The group's quarterly tape industry tracker shows global backup tape cartridge sales amounted to $169.10m (£106m) in the second quarter of this year, down 9 per cent from $185.5m (£116m) a year ago, and $188.2m (£118m) in the first quarter of 2012. LTO cartridge sales were $153.9m (£96m) in the second quarter, 91 per cent of the total. DDS and DAT sales managed a mere $6.6m (£4.1m), down 26 per cent from the year-ago figure of $8.85m (£5.5m).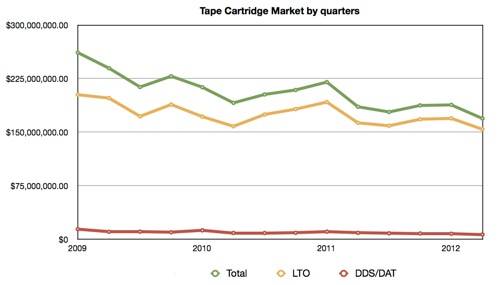 Tape's gentle sloping downward trend, in terms of revenue
Plotting the quarterly numbers on a chart shows pronounced seasonality - the last and first quarters of a year being higher than the middle two quarters - and also a pronounced overall decline.
We can see that LTO format tapes are taking an increased proportion of the overall market. The reasons for this is that the openness of the LTO format standard (HP, IBM and Quantum support it) is preferred by customers over proprietary formats, such as DLT.
Below the LTO sector the DDS/DAT formats have prevailed over competing ones, such as QIC and Sony's AIT.
The tape market in general is declining because disk-to-disk backup is faster than tape, particularly in restoration, and deduplication makes drives affordable enough even though they are more expensive generally than tape. The time taken to restore from backups is more important than cash saved by not using disk.
With the archive market - tape's last bastion outside its mainframe niche - under assault from Amazon's cloud archive storage using object storage technology and spun-down disks, and with other cloud players set to follow suit, we can expect the tape market to decline further. The day when tape automation vendors decide the game is up draws nearer. ®
Sponsored: Minds Mastering Machines - Call for papers now open