SpectraLogic smacks back at Overland for 'unwarranted' lawsuit
'You waited... too long'
Tape library vendor SpectraLogic has filed its response to on-the-ropes storage biz Overland's lawsuit, which accused Spectra of patent infringements.
Overland is suing European tape automation supplier BDT through the International Trade Commission (ITC) for patent infringement and trade violation and has also sued several of BDT's US vendor customers, including Quantum and SpectraLogic. Overland used to sell tape autoloaders and libraries to OEMs like HP a long time ago. But it lost those clients, with BDT grabbing some of its business. Quantum has robustly rejected Overland's claim and now SpectraLogic is doing the same.
Spectra's rejection includes this point, which it referred to as "relatively unique": "Overland's request for damages is completely extinguished due to Overland's unusually long delay and misleading conduct in connection with the lawsuit."
It wants the Overland lawsuit delayed until Overland's ITC case finishes – and this could be 18 months away or more.
Spectra's general counsel, VP Brett Huston, had this to say as well: "Even after the lawsuit recommences, trial would not likely occur for at least another two years...[T]he charges are directed to an extremely insignificant portion of Spectra's tape library business. Spectra Logic will see the lawsuit through to a successful conclusion, including seeking an award against Overland for bringing clearly unwarranted charges of infringement."
Overland is convinced it lost OEM contracts to BDT several years ago because – or so it alleges – BDT knocked off its IP. That OEM contract loss was the start of a devastating period of years in which Overland has nearly gone under, changed CEOs, had to revamp its entire product range, and is still struggling like crazy to rebuild its business. The lawsuits could generate licence and royalty revenue streams that could help it become healthy again. Its lawyers are acting on a no-win, no-fee basis and have a good rep in the IP infringement field.
Overland's financial results
Overland has just reported its fourth quarter fiscal 2004 and full 2004 revenues.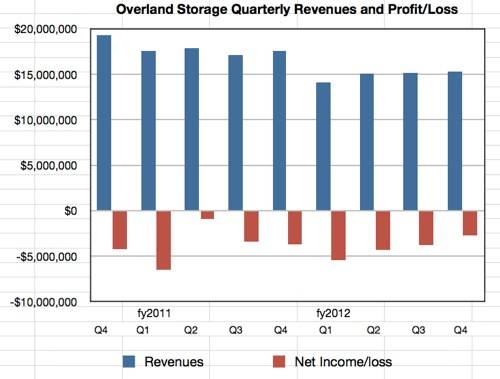 It sold $15.3m of kit, software and services in the quarter, down from $17.6m a year ago but an increase on the $15.2m in the previous quarter. There was a net loss of $2.7m, less than the prior quarter's $3.8m and the year-ago quarter's $3.7m losses.
The chart shows a definite trend of gradually rising quarterly revenues and more steeply falling quarterly losses. The full year picture of $59.6m revenues compared to last year's $70.2m, still shows a depressing picture, especially as full year losses of $16.2m were more than the prior year's $14.5m loss.
The quarterly trend is different and, if continued, will lead to profits. But that, at the current rate of improvement, is three quarters away. Still, Overland's execs can start dreaming of putting the champagne on ice.
Getting back to legal matters, Quantum and Spectra's lawyers are going to have their work cut out to beat Overland's legal rottweilers, and are set to fight them all the way. But who knows what might happen as the bills mount and the relative merits of the cases become clearer? Dell and IBM have already settled with Overland so the Quantum and Spectra lawyers must think they have strong cases. ®
Sponsored: Minds Mastering Machines - Call for papers now open