Dell makes unexpected grab for the PAYG storage cloud
Using Nirvanix cloud storage service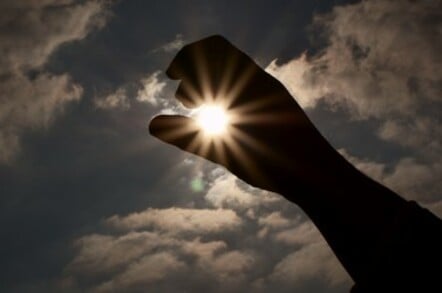 Dell quietly released an announcement a few days ago that it was offering a cloud storage service in partnership with Nirvanix. There was no press release, neither from Dell nor Nirvanix, no video, no PR blast, no nothing, just a single tweet, which was promptly retweeted by Nirvanix.
The tweet came from DellServices and read:
Dell Cloud Storage with Nirvanix — Public Storage http://www.onlywire.com/r/100113920
The expanded URL redirects to a Dell webpage entitled Dell Cloud Storage with Nirvanix - Public Storage and from which a PDF can be downloaded.
The PDF is a formal Service Description with this introductory sentence:
Dell Cloud Storage with Nirvanix – Public Service (the "Service") is a public, multi-tenant STorage as a Service (STaaS) offering designed to enable the integration of internet accessible storage into third party storage processes.
Nirvanix, which offers a Storage Delivery Network cloud, is headed by Scott Genereux who took charge in May last year and is driving the start-up hard.
For example, IBM is OEM'ing the Nirvanix storage service, and now Dell is reselling it. Neither company would want their customers to cease buying storage arrays and transfer previous upfront capital expenditure to pay-as-you-use storage in the cloud but, if some customer early adopters are going to do it anyway, it makes sense to dip a toe into the water and gain experience. That probably explains Dell's low-volume approach to this.
No mainstream storage array vendor has a significant cloud storage effort, not EMC, nor NetApp nor anyone else, although HP does have a cloud service, including a cloud object storage aspect, in beta test. Google, Microsoft with Azure and Amazon – with S3 and now Glacier – are probably the largest players and the trio are, practically speaking, unbuyable. Quantum has just announced a cloud storage initiative but it's too soon to say how popular that will be, and nobody will buy a day one start-up service.
But Nirvanix could be bought if the idea takes off, and it would be far less expensive than buying Amazon.
It looks to be a smart move by Dell, with interesting possibilities for its arrays to treat the Nirvanix cloud as another tier of storage if Dell wished to play that game, as well as offering a straight alternative to its arrays for customers set on storing primary as well as secondary data in the cloud. We're entering a cloud-grab era and the Dell and IBM moves could force other vendors to up their cloud storage ante as well. ®
Sponsored: Minds Mastering Machines - Call for papers now open