Freesat eyes YouView USP for next-gen UI
VoD and live content combined into one EPG
Free-to-air satellite broadcasting platform Freesat is to YouView-ise its set-top boxes, based around a new UI that will debut in next-generation kit later this month.
Like YouView, Freesat's new UI mixes upcoming programming and catch-up content into a single electronic programme guide (EPG). Alas, recordings - full DVR functionality is part of the package - are not included in the 'earlier' section.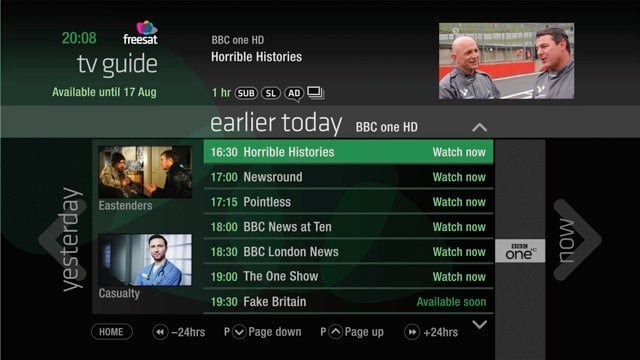 One novel touch: current and upcoming shows are listed in a "now" and "next" array, though the traditional half-hour segment time-based listing is available too. But Freesat's focus group testing found that punters prefer the former, said MD Emma Scott.
Catch-up content is listed by channel, presenting only what's actually available to watch, the better to avoid showing a timeline of greyed-out, unobtainable shows.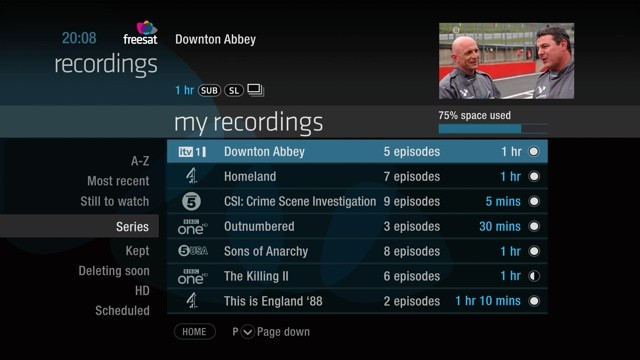 Catch-up content will initially be delivered by BBC iPlayer - the new version, 3.4; Freesat will get it first, Scott claimed - and ITV Player, with 4oD and Demand 5 to follow "soon". Scott said the service is open to working with other video on demand providers, but wouldn't say if Freesat is talking to any at the moment.
To distinguish Freetime, the name of the new Freesat UI, from YouView, there's a programme recommendation section too, Showcase though, unlike TiVo, this one simply presents Freesat's own suggestions, not intelligent recommendations based on a given user's viewing habits.

It's not entirely an pitch against YouView, more about tackling Sky and Virgin. According to Scott, more than half of Freesat's users - owners of the 2.6m Freesat set-tops and integrated TVs sold to date - come from pay TV; many of the rest, presumably, are folk who can't get Freeview for geographical reasons and have to have a satellite pick-up. YouView is based on Freeview. Freetime brings Freesat into feature parity with its terrestrial sibling.
The first Freetime-equipped Freesat+ HD box will come from Humax and retail for £279. Scott promised other Freesat kit makers will release their own alternatives in due course. Freetime is based on open standards, including HTML 5 and HbbTV, said Scott, and this, she pledged, will make for lower-cost boxes and more of them. When, though, she didn't say.
Freesat will also offer iOS and Android remote control apps. ®
COMMENTS
slowly
Slowly the STB are catching up with the features available in XP MCE.
Just think what Media centre would be like now if Microsoft had done any development on it.
Re: Price?
In a walled garden of content? Are you nuts? Apple TV is for iTunes devotees only. It has no selling point to anyone else. If you stop buying content from Apple, then Apple TV is useless. A bit different form YouView...
Re: Price?
I remember paying over 500 quid for a Mitsubishi VCR around 1990. ouch.
mind you I remember paying 50p / litre of petrol in the early to mid 90s.
So now I can watch TV nice and cheap but can't afford to drive anywhere.
I need to get out more.
Re: 2.6M Freesat devices - probably a little less than 1M in use
@anonymous
Firstly thanks, I had looked a couple of times for the latest Ofcom Digital TV data but not found it as I hadn't looked in the overall Communication Report.
Looking in the cvs data the Ofcom estimate for free satellite households is 1.823 M. Note that this includes not only Freesat but also Free Satellite from Sky and all other free satellite services (unbranded boxes possibly without proper EPGs). There may be a proportion of these in use for non-English language services (Hindi, Arabic, Polish, German etc.)
Given that at the time of Freesat's launch (Q2 2008) the Free satellite category had 0.84 million households it is a reasonable assumption that Freesat may have less than 1 million households currently and certainly it has nothing like 2 million.
Re: 2.6M Freesat devices - probably a little less than 1M in use
The Ofcom market report for 2012 shows about 2 million people using Freesat?