China and Japan stick it to floods, quakes and tsunamis
Nations nail pre-and post-disaster tech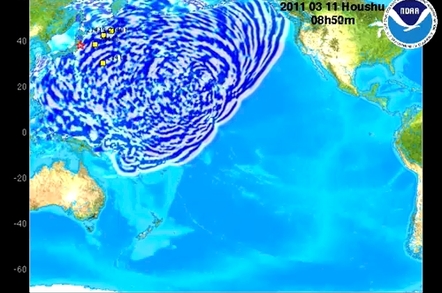 Japan and China will use technology to prevent mass loss of life caused by natural disasters.
Authorities in Tokyo are trialling an online portal designed to centralise more than 40 services in the event of a large-scale natural disaster of the type seen in Sendai in the north-east of the country in 2011.
The portal, which is also accessible on feature phones, will provide information on utilities such as gas and water, as well as traffic disruption, according to the Wall Street Journal.
There are also links to relevant government Twitter feeds and survivors can also leave status updates – information which could even save lives if it prevents family members from endangering themselves by going out to search for others.
The launch of the prototype service comes during an annual week-long disaster awareness and preparedness campaign in Japan designed to coincide with the anniversary of the Great Kanto Earthquake which flattened Tokyo in 1923.
"The government and companies have been discussing how IT can assist people in case of emergency, and we've launched the drill service because now we are in the annual week-long campaign of disaster prevention," a cabinet office official told WSJ.
In China, recent fatal floods have put the government on the back foot.
A storm that hit Beijing on 21 July killed over 70 people by conservative estimates and led to many criticising the authorities for a historical lack of investment in proper drainage infrastructure as well as the absence of any early warning system.
As fresh downpours flooded parts of the capital and elsewhere in the country last weekend, officials said that The China Meteorological Administration and 17 of its provincial-level equivalents had struck deals with some telcos to send users texts when weather warnings reach orange or red – the two most severe categories on China's four-tier system.
China Daily also reported that many of the local meteorological authorities release information on their microblog accounts and that the National Meteorological Centre would be doubling the frequency of its forecast for major cities from every 12 hours to every six.
However, there are signs that some mobile users are still not getting the storm updates, the report added.
The China Meteorological Administration is said to have signed deals with China Unicom and Telecom but there was no mention of China Mobile, the country's largest operator with a subscriber base in excess of 650 million. ®
Sponsored: Minds Mastering Machines - Call for papers now open