Hands on with the HP Envy X2
Windows 8 tablet-keyboard combo fingered
IFA 2012 The tablet plus keyboard combo looks set to be a prominent vehicle in getting Windows 8 into the hands of punters. Along with the new OS comes a slightly different form factor too with 11.6in keyblets from Samsung – its Ativ Smart PCs play this game with Core i5 and Atom CPU options – and HP has its own Atom-powered Envy X2 waiting in the wings until October.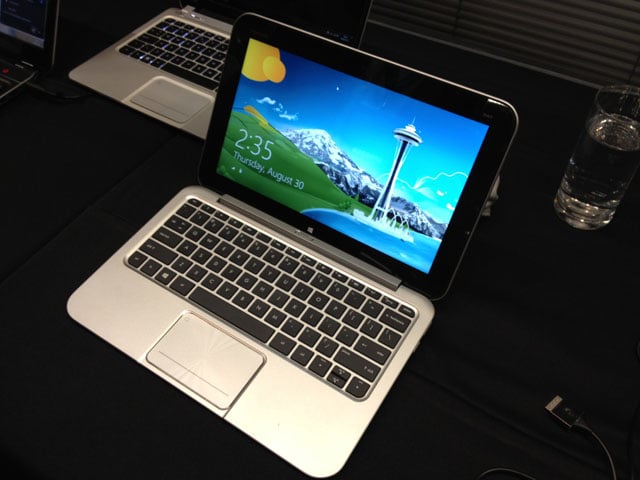 Matching pair: HP's Envy X2 tablet and keyboard
HP does a pretty good job of hiding the join with the Beats audio enhanced Envy X2. Magnets bring the two halves together with retaining latches hooking into position when things get snug – a simple slider initiates separation.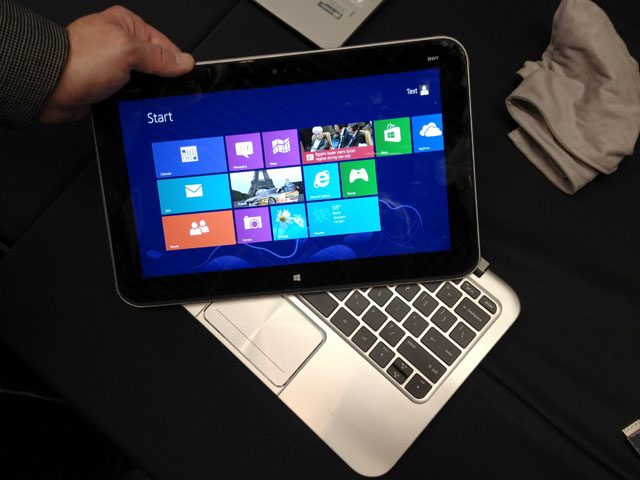 Mutual separation: screen wiping rag optional
Prodding the display of a 'laptop' seems to go against conventional wisdom and although Windows 8 seems intuitive enough from the home screen, it's all too easy to get lost once you start using the darned thing.
A prod at Microsoft's Fresh Paint seemed like an easy place to start. The palette appears and away you go... and away it goes too. No more palette just a blank canvas, but how do I get my colours and brushes back? Tsk, no matter I'll just draw on the Envy X2 for a bit. And nothing happens.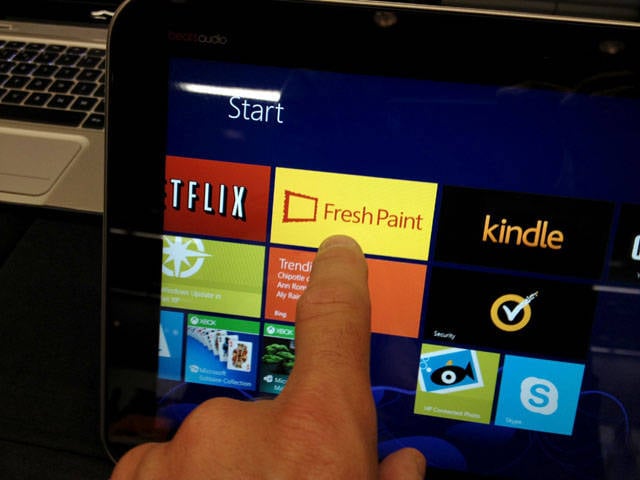 Mmmh, push a bit harder on the screen... now we're getting somewhere. Oh, and it keeps toppling backwards. Obviously this is going to work best as a tablet mode-only app. Yet everyone trying it out is using the keyboard's Windows key to exit apps because, as a tablet, Microsoft's way of doing things is certainly not that intuitive, alas.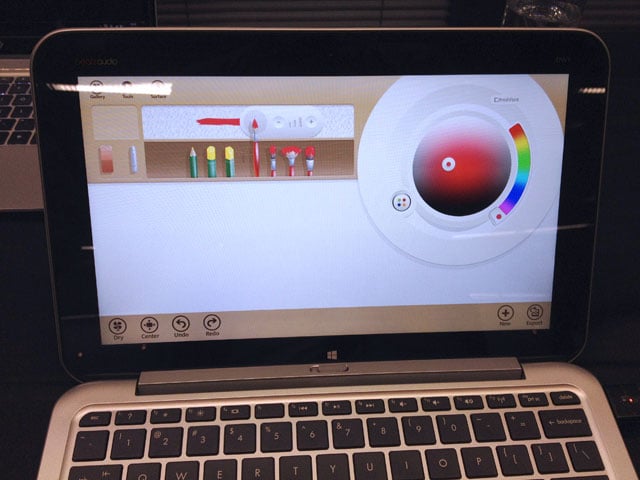 Choose your weapons
The 11.6in screen has advantages in that, by default, the keyboard it's matched to ends up being a larger full-size affair, rather than something more fiddly. Released from the keyboard, the HP Envy X2 tablet feels surprisingly light at 690g. The size of this 1366 x 768 resolution display seems quite imposing initially, but then you get sucked into that immersive touchscreen noodling and quickly forget all about it.
USB and SD card slots in the keyboard
There's no obvious lag and David Conrad, director of product management at HP was upbeat about the performance of the Clover Trail CPU inside the HP Envy X2. Indeed, it's all too easy to for folk to start muttering about Intel's Atom processors, given how netbooks can struggle when running Windows 7, but this new chip generation offers greater overall efficiency and it shows.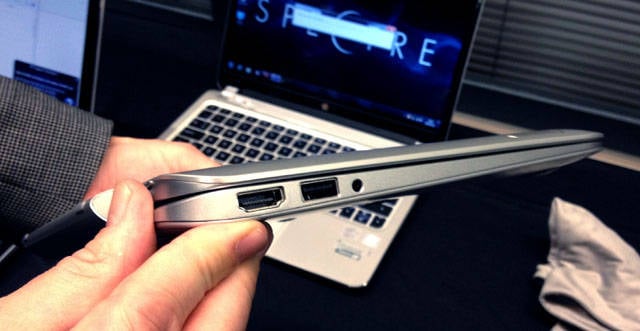 Another USB port and HDMI too – full HD video playback is supported
Even with just 2GB of RAM on-board, this appears to suffice on the Envy X2 as Microsoft has evidently done some thoughtful tinkering too. Conrad remarked that HP has some of its own fine tuning to do prior to release, and so no battery life figures are being offered until these optimisations are complete.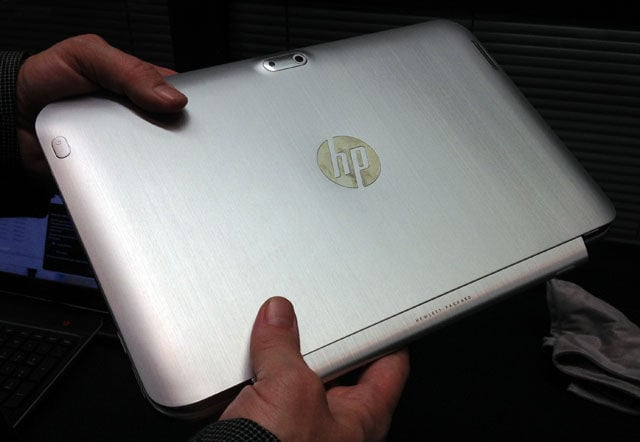 Going out in style: the tablet also has a micro SD card slot to bolster its 64GB on-board storage
Besides the tablet's own battery, there's one in the keyboard too and together the HP Envy X2 weighs in at 1.4kg. While two batteries will keep you up and running when out on the move, only Wi-Fi, Bluetooth and NFC are on offer to keep you connected, as there's no 3G option. Still, it's very stylish combo and, when it comes to choosing a Windows 8 keyblet, the HP Envy X2 looks a very attractive proposition. As it's unlikely to come cheap, it's no doubt aptly named. ®
COMMENTS
Re: Um, guys
Some people,really have got a sense of humour by pass (assuming that is that original was supposed to be funny/ironic )
However:
1. Apple have managed to patent a 'wedge shaped computer' so it breaks their patent (yet again so does my netbook but Asus haven't been used yet
2. I'm surprised Apple haven't tried to patent the 'novel method of providing written communication involving 26 characters and 10 'numbers' and a few squiggles to provide context'
3. Yes, that have patented 'black' particularly when used in polo neck jumpers
Re: Um, guys
"copying Apple so clearly-wedge shape, black island keys in a sunken area, gloss black screen border"
1 - It doesn't look like a Macbook Air at all, closer to an Asus Transformer
2 - Island keys were not invented by Apple
3 - what only Apple are allowed to use the colour black now as a border?
Finally this looks like which particular detachable keyboard tablet made by Apple...?
Big time fail fanboi...
Um, guys
Do you really want to be copying Apple so clearly-wedge shape, black island keys in a sunken area, gloss black screen border and all-right after what happened to Samsung? Bold, very bold.
Envy?
Which part of this device is likely to be expensive?
I know that "small & light" is supposed to be really desireable, but I think the public has shown that its nice, but not usually nice enough to warrant the price tag.
If the ipad can pack all it does into that tiny package, doubling up with a keyboard unit should provide scope for lots of cost-savings (not so tiny componants) or lots of extra features/battery life.
Where's my DECT connectivity? Yeah, yeah it probably has skype, but if I'm sitting with my tablet, why get up to answer the landline? I'd have thought that was a no-brainer for a mobile communications device. Mobile phones have a (feeble) excuse in power-saving, but surely tablets don't.
Balance too
Joking above aside, that wedge-shaped keyboard looks like a recipe for a touchscreen laptop this far from toppling over.