Domination
Just to compound the addiction comes a newly added and constant update of stats which will state that one team wiped out the other without suffering a casualty, Player "X" knifed an opponent, Player "Y" won a game despite his teammates having been long since terminated and so on. My, how you'll envy these skilful souls and sit chomping at the bit until the next round begins and provides another chance to get your own name up in lights.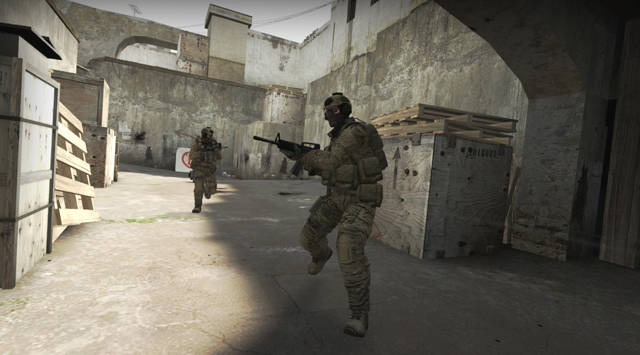 Chasing status
At this point, a word of warning to new players: don't expect to be dominating servers overnight. CS has been around a long time, many of its players are battle-hardened veterans and, despite being something of a player myself, back in the day, I found the going tough (and with rock solid net code in place I can't even blame lag). That said, victory is no longer judged solely on kills, which supports those who choose to play for the team, while the game's built-in weapons and cash balancing should help newcomers to settle-in too.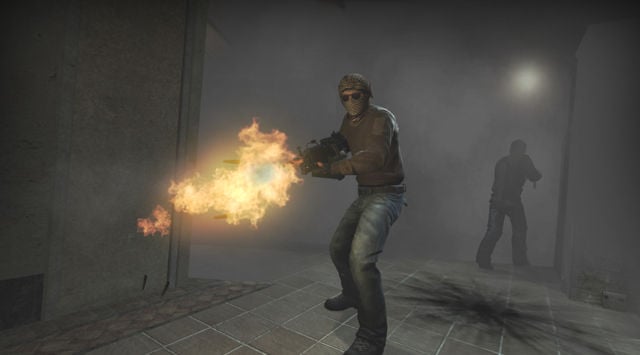 Flaming hell
Verdict
In an odd sort of way, it feels strange to see CS return in a guise which is so comfortingly familiar. I'm left with nagging doubts that Valve should have upped the ante a little as far as the visuals go, perhaps made CT and Terrorist outfits a little more distinct, and added in a few extra maps. Surely, these will come in time if CS's post-release support is anything like fellow Valve title Team Fortress 2. Ultimately Counter-Strike remains at the forefront of the world of online shooters and CS:GO is its best iteration so far.
 ®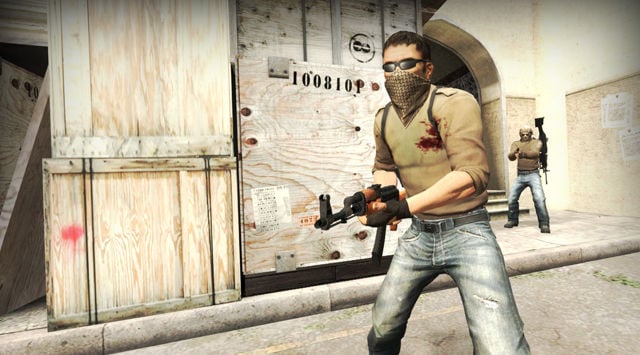 Got your back?
More Games Reviews

Darksiders 2
Lollipop
Chainsaw
Ghost Recon:
Future Soldier
Max Payne
3
Diablo III

Counter-Strike: Global Offensive
Online shooting perfection returns as Counter-Strike takes up its throne once again. Available on PC (tested), Xbox 360 and PS3.
COMMENTS
Just as long as
...it doesn't follow TF2 and become the worlds leading Hat Simulator
gang bang
i've lost count of the number of times I've clicked on a link like that to find it's not as good as I was expecting...
I thought it was only our US friends who confused beating people up with group shagging....
Re: Cool, but...
Hell yeah. The betas were so much better.
Of course the last time I tried to play an FPS online my wrists felt like broken crockery after an hour.
Welcome to the public Internet, where your opinion counts for nothing against seven billion kids.
You want to play a different map? Make your own server where map voting is disabled for everyone else. That's how it was on CS 1.6, how it has been on every game since, and how it will be in the future too. Same for vote-kicking, "Go away, I only want to play with my friends", timewasters, AFK's, TK'ers and everything else.
And there are tons of maps, all being converted over to CS:GO. The problem is that there are too many and most of them are rubbish because it's HARD to make a good, balanced, fun map. The ones that are those things are being converted now and/or are already in place. There may even also be copyright issues (i.e. if someone ELSE made the map, surely you need their permission to convert it to CS:GO unless you want to try to recreate it from scratch?). And 99.9% of the map is actually making it look acceptable - there are a ton of texturing and other problems that would make even the simplest of map conversions look ugly without the original artists going back and retexturing the whole thing in greater detail.
Personally, I don't care about the maps. They are mere details. The maps I know, I've remembered in intricate detail already and they play little part in the game because they are so well balanced and you can just ignore them. Switching to new maps, I lose half my rounds just because I didn't realise you *could* hide up there, or come from behind, or snipe through that gap, or whatever else.
There is one, cast-iron, guaranteed way to solve both your problems. Run your own server. It costs hardly anything (I've never been in a clan but I've *ALWAYS* had my own server for CS 1.6 and CS:CZ), you can stop people voting the map changes and ruining your game, and you can have whatever maps you like on there. And there's nothing more satisfying, when that random idiot joins your server, than just booting them out - no questions asked, no votes required, no other-user participation necessary.
Rule #1 - if random users are annoying you, stop them getting in. Works for spam, port-scans, and idiots on game servers.
CS:GO is definitely way better than the shitpile that was CS:S. It looks better, plays better, and is much closer to 1.6. But it's all the same maps AGAIN. Seriously, can we knock this crap off? I know there are some new ones in there, but you'll never see them, mainly because of my other, much bigger problem with the game:
The players.
First game I played of CS:GO, I connected to a map running Italy....which was immediately changed to Dust. So I switched servers to one playing a different map....which was immediately changed to Dust. Several votes for other maps were launched, which were all immediately overridden by the admin for Dust 2.
I am so. Fucking. Sick. Of the sight. Of Dust.