AMD CTO spills 'Steamroller' core specs
Shows off impending Opteron SeaMicro microserver
SeaMicro servers ahoy!
Coming a bit sooner will be a version of SeaMicro's microserver motherboard that plugs into its SM10000-EX chassis launched in January. That was the version of the SeaMicro box that sported Intel's "Sandy Bridge" Xeon E3-1200 v1 processors.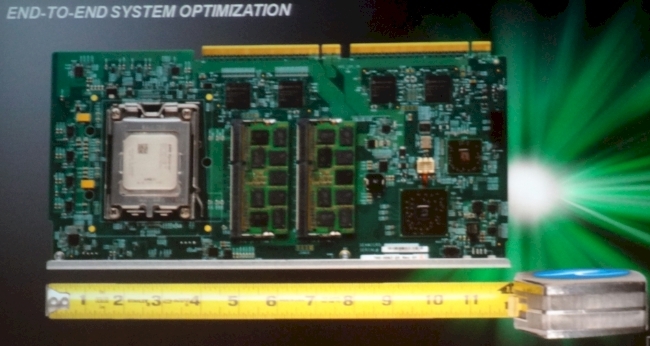 The Opteron-based mobo for the SeaMicro microserver chassis
When AMD acquired SeaMicro for $334m a month later, Papermaster confirmed El Reg's contention that AMD was not trying to get into the server manufacturing business, but was interested in the "Freedom" 3D torus/mesh interconnect at the heart of the SM10000 machines as well as the load balancing and I/O virtualization ASICs that are also part of the system. In any event, AMD has promised that it would get an Opteron-based SeaMicro mobo into the system by the end of the year, and there is it. Exactly what processor AMD is putting in there is unclear, but a variant of the Opteron 3200 seems likely or the Opteron 3300 if this is the chip that comes out the door first from AMD in the Piledriver generation.
The point of all this talk about "ambidextrous systems" and the SeaMicro interconnect is to prove that AMD is looking at using different kinds of processing elements on a die or within systems with peppy interconnects. "It is not a pure feeds and speeds race," Papermaster proclaimed at the end of his keynote. "It is how you bring the solution together. You have to have a systems view." ®
Sponsored: Minds Mastering Machines - Call for papers now open