Epson Stylus Photo PX660

This isn't the cheapest all-in-one in Epson's range, so you'd expect a few bells and whistles. Yet there are surprisingly few, with a single paper tray, no wireless and no duplex. It has does have six inks though – with light cyan and light magenta – and a good set of front panel sockets, including CompactFlash.
As usual with Epson, speed claims should be ignored. Epson says 37ppm and 38ppm draft, I say 4.7ppm and 3.5ppm in normal mode; not quick, in this group. Page costs, at 2.4p and 9.6p, are fair for black and very high for colour, only matched by its stablemate.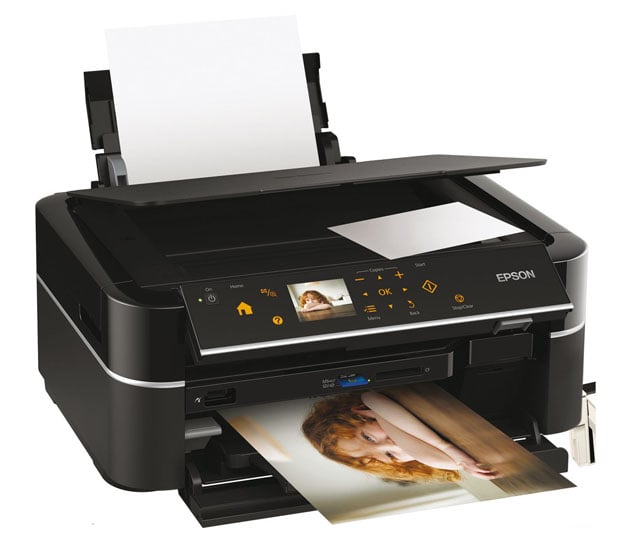 Reg Rating 65%
Price £130
More info Epson
Epson Stylus Photo PX820FWD

According to vendor pricing, this model ends up the most expensive A4 printer in the group. It has a second paper tray for photo blanks, a full set of card sockets and a large touchscreen. It also has a 30-sheet Automatic Document Feeder (ADF) and fax; so it bridges photo and home office use.
It uses the same set of six cartridges as the Stylus Photo PX660 and speed claims are still way over the top; I measured 7.7ppm and 6.1ppm for black and colour, against Epson's 40ppm claim. Photo prints are excellent, with both vibrant colours and natural hues, depending on subject. Page costs are low for black and high for colour, the same as with the cheaper machine.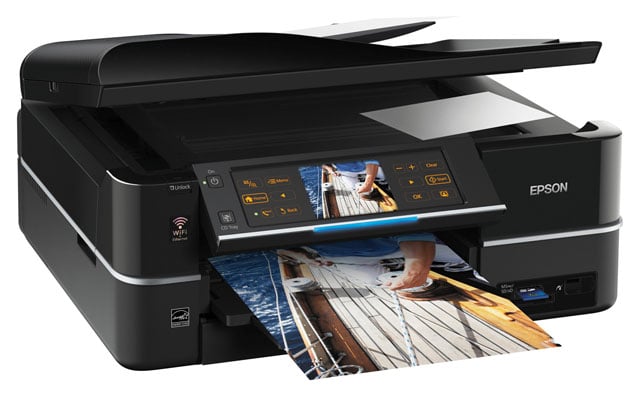 Reg Rating 80%
Price £300
More info Epson
COMMENTS
differences
The differences are explained right at the start of the article. A photo printer generally has more than 4 inks, some offer CD/DVD printing and some have negative/slide scanners.
The truth of all this though is that printing photos at home is a waste of time and money. Online photo printing services can have the pictures out to you next day and they'll be better quality and cheaper than you can possibly achieve at home.
When my current printer dies or the ink becomes hard to find I'll be getting myself a laser, probably black and white, and all my photo printing will be done online.
Would have liked to have seen some 'normal' inkjet all-in-ones as a comparison
Apart from the fancy pop-up LCD displays (are they needed when you've probably previewed the pic on a phone/camera/tablet/desktop already?), what's the difference between an colour inkjet photo printer and a "normal" colour inkjet printer?
It might have been nice to incude a few "non-photo" colour inkjets in the review, load them up with photo paper and see what sort of job they do. With the price of photo paper and inkjet cartridges already very high, I've got to question spending anything more than 100 quid on any sort of inkjet printer.
Me? I've got an HP colour all-in-one inkjet printer, but no somewhat pointless colour pop-up LCD on it. Price? 25 quid directly from hp.com - throw in some photo paper and it does a good enough job at printing photos. No printer here costs under 80 quid, the difference of which could go on buying a reasonable number of cartridges and photo paper.
Re: When is £300>£499?
If you're price conscious (as you should be), then you'd be crazy to compare prices of the printers themselves and not spend at least twice the time comparing the cost of the ink. If you actually use a printer, the cost of the ink will swamp out the price of the printer itself several times over.
Printing your own is only way
Being a photographer who likes to post process a lot I sometimes have weird crops etc. I like to control how these are printed and how accurate they are in colour saturation and hue etc. Most print services don't offer much more than size and borderless or matt or glossy.
Re: Printing on glass
Some local options here:
http://www.acrylic-glass-photo.co.uk/en/acrylic-glass-photo/241000.xhtml
http://uk.whitewall.com/products/LumasecLight
http://www.pixum.co.uk/poster-canvas/gallery-print.html
http://www.posterjack.co.uk/