Ivy Bridge for Ultrabooks
Inside Intel's premium portables
Variations on a theme
There are no new chipsets launched with these CPUs, so the 7-series mobile chipsets announced at the time of the original Ivy Bridge CPU launch will be the companion chipset with the ULV processors. The UM77, with its TDP of 3W and average power consumption of 0.84W, is the most likely chipset to find its way into Ivy Bridge Ultrabooks. However, what enables the UM77 to achieve its TDP is a lack of support for VGA or LVDS outputs, and only 4 PCI-E 2.0 lanes in the chipset itself.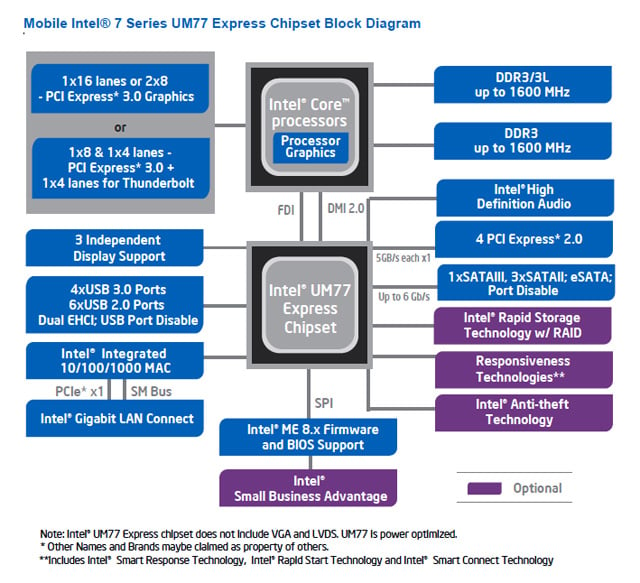 Intel Ivy Bridge UM77 mobile chipset
Also launched at the same time as the ULV processors were four standard voltage (35W) dual-core/four thread chips. Yet only recently arrived on the scene, and aimed at low end Ultrabook, is the ULV Core i3-3217U, a dual-cored chip with a clock speed of 1.8GHz and no Turbo Boost. It has a 17W TDP with the HD4000 graphics running with a base clock of 350MHz and a dynamic maximum speed of 1.05GHz.
Bringing Ivy Bridge to the Ultrabook party also means that these systems will be DX11 capable due to the HD4000 graphics core. The company mantra remains: ultra responsive, ultra sleek and long lasting – as highlighted in the original specifications. There are only a few changes, for instance the new generation Ultrabook's must provide either USB 3.0 (integrated in the 7-series chipsets) or Thunderbolt support.
Yet, as before, the target response time – from very deep sleep state (S4) to full use from the keyboard – is set at less than 7secs, with wake from sleep mode faster still. The battery life of at least 5hrs remains and the thickness must be 18mm or less for models with a display under 14in, and 21mm for units with a screen over 14in. Yet whether a product with a screen larger than 14in can still be called an Ultrabook, is a moot point.
So here I am with a 13.3in Core i5-3427U Ivy Bridge Ultrabook backed by 4GB of DDR3-1600 memory – some of these Intel systems have been seen with 8GB – and a 240GB Intel 520 SSD drive and a 1600 x 900 display. An impressive specification which, if available over the counter, would make this particular Ultrabook pretty high end, with a price tag to match.
PCMark 7 Benchmark Results
Intel Ivy Bridge Ultrabook and Sandy Bridge models compared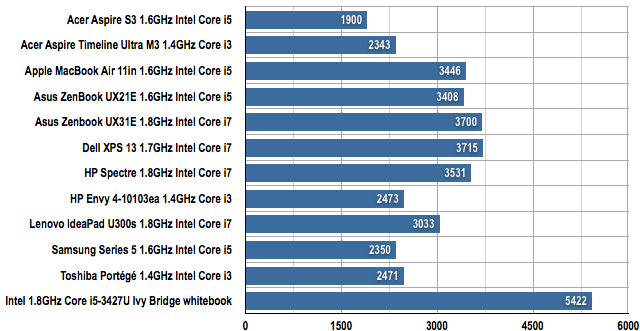 Longer bars are better
This combination in such a slim-line unit delivers a performance that puts every other Ultrabook I've tested into the shade by quite some margin. Tests with PCMark 07 notched up an overall score of 5422, which even beats some standard form Core i7 notebooks. Indeed, this model certainly feels zippier than earlier Ultrabooks especially when opening and closing applications.