BeBook outs Kindle-beating e-book reader
Thinner, cheaper, more capacious
Does half a millimetre matter? E-book reader maker BeBook believes it does. It's relying on that tiny, effectively unnoticeable difference to claim its new 8mm-thick Pure reader is the thinnest of its kind. Its nearest rival is the 8.5mm-thick Amazon Kindle 3, now called the Kindle Keyboard.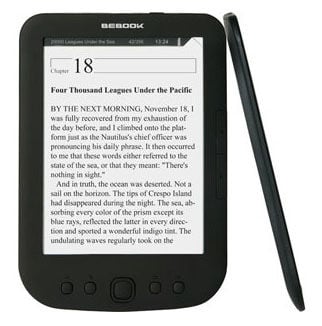 Apart from its waist measurement, the Pure does have some other qualities that may put it ahead of the Amazon offering. First, it's cheaper: £69, £20 less than the £89 Kindle 4, which is 8.7mm thick, by the way. Second it has 4GB of storage - the Kindle 4 has 2GB - and a Micro SD slot for more.
Finally, the Pure will work with DRM-protected e-books from any supplier who opts for Adobe's crypto tech, rather than Amazon and Amazon only.
BeBook is releasing the Pure in the UK "in the next few weeks". ®
COMMENTS
Re: How many shades of grey?
Fifty.
Re: How many shades of grey?
16. Almost certainly an eInk Pearl screen. Easily as white as a cheap paperback (although more grey than cheap paper's yellow/brown shade).
IRex managed to get more shades out of eInk with a cunning pixel manipulating system - my Iliad did 16 shades on a screen which supposedly was only capable of 8 - but I expect that secret died with them.
Why do you need more range? Most of the books I read don't have pictures, and 16 greys is enough to anti-alias text to an acceptable level, especially at the resolution eInk works at..
You're confused because I was mooting not buying a Kindle, but buying a BeBook, and wondering how I get all my purchased Kindle books onto a ¬Kindle.
I'm confused, if your books are in the Kindle app then surely they will automatically appear on ANY device you sign into with your kindle ID, including an actual Kindle? e.g I have a Kindle, and when I installed the app on my iPad, Windows Phone, Mac and PC, the books were ready to read.
This slickness is one of Kindle's major strengths so I don't follow all the side-load advice, unless I misunderstood your setup?
Presumably remove the DRM, convert to ePub and sideload.