RIM doses PlayBook with 4G super serum
Stimulant for sales success?
In a bid to improve the flavour of its chunky 7in tablet and make it more tasty for punters, RIM has spiced up its PlayBook with a little 4G LTE sauce.
Essentially an existing PlayBook but with added faster mobile broadband tech and a clocked-up processor, the "4G LTE BlackBerry PlayBook" - to give it its full name - goes on sale in RIM's native Canada next week.
"Additional variants of the BlackBerry PlayBook tablet supporting various high speed cellular networks [HSPA+ included] are expected to be available in the coming months from carriers in the US, Europe, South Africa, Latin America and the Caribbean," RIM added.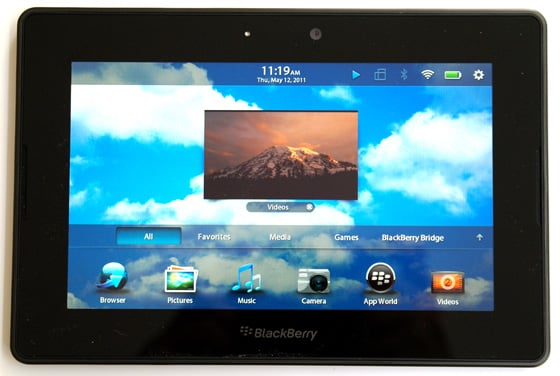 The LTE PlayBook sports a 1.5GHz dual-core CPU - 50 per cent more cycles per second than the existing PlayBooks. Those come in 16, 32 and 64GB variants, but the new model will only feature 32GB of storage.
Once again, it's based around a 7in, 1024 x 600 display. There's a 5Mp camera on the back and a 3Mp snapped for video calls.
RIM didn't say what Canadian carriers Rogers and Telus will charge for the tablet, but presumably it'll be fairly cheap given how little the Wi-Fi only model costs these days - you can pick up the 16GB model for £129 (RRP: £399) - and allowing for network subsidies.
Which begs the question: why the heck didn't RIM offer something like this back in 2011 when the PlayBook launched? It might have sold rather more of them if it had. ®
COMMENTS
Oh my gosh!
"The corpse just moved." said Watson.
"Don't worry. They are electrical discharges from the remnants of a once living thing." replied Holmes.
Re: Too little too late.
"The writing was on the wall for RIM the day Microsoft announce Exchange Activesync; it removed their entire USP."
Hardly. Exchange Activesync is yet another email/calendar protocol that relies on an open and live tcp network connection in order for the server to notify the client that something has changed. Fine on a desktop, eye-wateringly bad on a mobile with limited battery life and eats into data allowances.
In contrast RIM's push notification system was designed for and is very good for mobile platforms (no continually live connection needed). That's good for battery life and data allowances (especially important when abroad). Furthermore their push system is not limited to just email and calendar. Any application developer can take advantage of it (e.g. Facebook or Twitter client apps, or even something bespoke you've written yourself). All in all it works very well.
I point my own BB at Hotmail. In practise this is results in RIM's servers talking to Hotmail using Exchange Activesync, and RIM's email infrastructure does the rest. I also point Outlook at the same account using MS's Hotmail Connector, which also uses Exchange Activesync. Email consistently turns up on my BB faster than it does on Outlook. Go work that one out, I can't, though RIM are clearly doing a good job of it.
MS phones may very well have a lot of the same functionality as a BB phone, but neither MS or anyone else have RIM's push system. RIM's QNX is also significantly better than the brain dead NT kernel that is the foundation of Win8, and is arguably better (on a mobile platform) than the Unix/Linux bases of iOS and Android. RIM have the superior technical foundations, but are struggling at the moment to turn those into a must-have overall offering.
The Reg seems to be living under the invalid assumption
that the current playbook does 3G. It doesn't. It can tether to a Blackberry or it can use WiFi, that's it.
Because of this there is no on-contract price, except if your carrier throws one in for free/cheap with a BB. That £129 price is contract free, unsubsidised and shows you just how desperate RIM are to shift them.
Re: 4G?
An Ipad at £130 quid, good luck....
I have a older model and the hardware easily outperforms my iPad (not a 3 obviously). Sadly no amount of performance beats having the actual apps to do stuff with though... I wish RIM would get their act together and pay for some killer apps to be ported across, I don't want a straight choice between iOS or Android alone.
Re: Not so much Playbook 2 as Playbook 1.5
There is a common runtime - HTML and JS. Unfortunately it's only useful for writing some sedentary app which shows content. Android / iOS / RIM all share C/C++ and could use QT if they wished, or OpenGL, or any other portable API. It's probably why RIM does pick up the odd leavings from the other platforms, also thanks to its Android layer.
Windows Phone 7 is completely screwed. Windows Phone 8 may get C/C++ too but I don't know enough info to understand how it works. I doubt MS would implement OpenGL and it could take some time for QT to be ported.