Apple extends tablet market lead
But rivals show greater growth
Don't write off Apple's competitors in the tablet market just yet. While the iPad may have regained much of the strong lead it lost to Android slabs during 2011, its rivals were showing the strongest growth in Q2 2012.
According to new numbers from market watcher IDC, Apple remains the number one tablet supplier, having shipped more than 17m machines during the quarter - out of 25m in total. That's up from just under 9.3m in Q2 2012, a growth rate of 84.3 per cent year on year.
With 68.2 per cent of the global market in its hands, Apple's lead is undeniable: the closest individual vendor is - no prize for guessing - Samsung with a share of just 9.6 per cent.
Samsung's shipments grew 117.6 per cent year on year, a fatser rate than Apple's. Asus' shipments grew almost as quickly: 115.5 per cent, but with a share of just 3.4 per cent, it still has a long way to go to reach Apple.
Its Q2 2012 shipments reached 855,000 units; Samsung's were 2.4m.
The wildcard is Amazon. Its Kindle Fire wasn't available in Q2 2011, but a year on the online retailer shipped almost 1.3m of them, enough to give it five per cent of the world tablet market - not bad, perhaps, for a machine only available in one, albeit big country.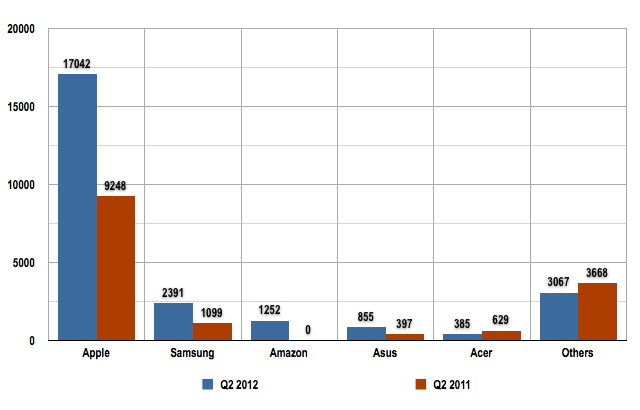 Tablet shipments in thousands
Data source: IDC
Acer's share slumped to 1.5 per cent, with shipments falling 38.7 per cent year on year to 385,000 units. That was still sufficient to keep it out of the 'Others' category, which declined 16.4 per cent in terms of shipments.
All those lesser players together accounted for 12.3 per cent of the market in Q2 2012, down from almost a quarter of the market in Q2 2011. Moral: punters want brand-name tablets, folks.
That brand may be Windows 8 or it may not. But you can be sure Acer and those companies with an even lower market share will be crossing their fingers that it is. But with Windows 8 not out until the tail end of October - and with Microsoft's own tablet series, Surface, going on sale at the same time, they'll have to face not only what Apple comes up with in the meantime but also Google's now-shipping Nexus 7 and products from their chief OS supplier. ®
COMMENTS
Re: Meaningless
Yeah. Damn it Apple, why didn't you use your time-machine to go to November this year and give is the Q3 numbers with the Nexus in.
I can't believe El Reg fell for the old "but we don't have a time machine, you numbskull" routine AGAIN. Corporate shills!!!!!
Re: iPad's sell well
@jarjarbinks, I understood from the OP not that the other tablets CAN'T do what the iPad does, they can but that the majority think the iPad does it better, hence the vastly larger sales of the iPad over the others.
Individually, you may find otherwise, I might too but the OP is pointing to the sales figures and whether you like iPads or not, the sales figures cannot be disputed, the majority buy them, not the alternative.
iPad's sell well
Mainly because their product does best what the majority want them too.
Market forces in action.
Well, of course Android are showing high growth rates
Where once android tablets were abysmal (anyone remember the tablet Toshiba called the Polio because it was crippled? the original 7" Galaxy Tab?), now they are merely naff iPad knockoffs, the Nexus 7 aside which actually looks kind of competent.
Android: catching up fast.
Just bought
An Ipad 2 refurb, would have preferred an Android tablet but too many manufacturers push them out and forget about them. If you are lucky, you might get 1 OS update, probably next to no accessories etc. Apple update their SW and plenty of extras available to no brainer for me. Almost went for a SGT2 but decided against for the reasons above.