Military-grade IBM kit senses love, hate in Wimbo fans' tweets
'Sentiment analysis' served at high speed
Rapid rollout while avoiding a double fault
It's an indication of the perceived value of this data that it took just two tournaments for SecondSite to be rolled out to the world-famous court. Compare this rapid expansion to the decades of debate over whether or not the Centre Court should have a roof; arguments raged over the effect this cover may have on the game and that rain-hit postponed matches were part of the Wimbledon experience.
IBM, meanwhile, this year tore the wraps off a new Wimbledon.com website that brought live video to online spectators in addition to player and match stats. The website is hosted by three IBM data centres in the US, as part of IBM's SmartCloud to scale according to load. The Wimbledon site can receive up to 450 million hits in the fortnight of the tournament. Big Blue has been running the Wimbledon web servers on Linux since 2004.
This all sounds very nice and webby and mobile, but what about the hard data from those tweets?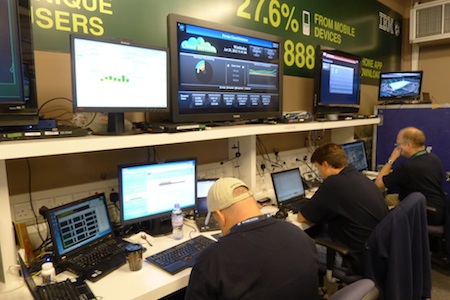 IBMers watch Big Blue's cloud to ensure Wimbledon.com avoids a fault
Outside the US Army, ICA has a track record in financial services, medical insurance and local government. It's also used by the UK's Department of Work and Pensions. ICA searches structured and unstructured data using natural language processing to understand the meaning and context of language and words used.
When it came to Wimbledon, IBM didn't just rely on the tweets and their accompanying metadata (such when a message was tweeted and by whom) to understand what was being said: IBM also generated an additional piece of metadata called a "sentiment score", a value ranging from minus-five to plus-five. ICA created an additional index for tweets to help the software perform language-based queries such as "show me tweets containing the word 'Wimbledon'" and sort tweets by the frequency of adjectives used.
ICA queries were built using a concept of facets. Verbs, nouns and adjectives were one type of facet while IBM defined other types related specifically to tennis, such as players' names and tennis terminology including deuce, service and net. This helped identify trends and form queries specific to the competition.
Among other stats guzzled from Twitter's fire hose of messages: former world number-one champion Rafael Nadal, who lost in an early round surprise shocker to Lukas Rosol, was on the receiving end of the most negative tweets of all the top seeds – 20 per cent negative compared to 15 per cent positive. Rosol scored more positive tweets than Nadal, 28 per cent, but scored fewer mentions - 64,000 to 143,864.
The sportsperson as 'brand'
Wimbledon is a showpiece for IBM. New, existing and prospective customers are routinely given a tour of the facilities the tech giant runs at the tennis grounds. What people see is a bunker of IBM staff with servers and PCs monitoring data feeds, and server and website performance, all while keeping the website and analytics software running for SlamTracker, SecondSight, Wimbledon.com and the cloud.
Sentiment analysis may seem wooly and vague now, but Flack believes it's got potential for any brand – not just those in sports – to find out what people are saying about them, gauge wants and needs, and to understand and react to opinions. ®
Sponsored: Minds Mastering Machines - Call for papers now open