Forget 'climate convert' Muller: Here's the real warming blockbuster
Apply official WMO methods, warming shrinks massively
What does Watts et al, really mean?
We first drew attention to puzzling adjustments made to the official US land temperature record four years ago here, but the controversy has rumbled on in the blogosphere for much longer.
Scientists ever since 1810 have documented the "urban heat island" (UHI) effect, which describes the higher nighttime temperatures found in areas dominated by brick, concrete, asphalt and such materials. Urban sprawl has increased the UHI effect and made adjustments to the temperature records a necessity: a weather station may transition from being rural to suburban to urban without moving. Yet the official adjustments have consistently cooled historical hot periods and warmed the modern era.
But making a rigorous, independent scientific assessment has been difficult without (at least) two things: the non-weather metadata, which requires field work, to ascertain the quality of the weather station; and a universally agreed-upon categorisation system. Watts et al is the first to incorporate both.
The lack of metadata and transparency in massaging the raw data was encapsulated in the controversy over a 2007 paper co-authored by Phil Jones, the director of the Climatic Research Unit at the University of East Anglia (CRU).
In 1990, Jones published a landmark paper arguing that the UHI was really negligible. In 2007 Nature published a paper by Jones and co-author Wei-Chyung Wang which asserted that China's UHI was also negligible. This raised eyebrows, for China's urbanisation has been famously rapid and widespread. The location and surroundings metadata for a significant number of "rural" stations in the sample couldn't be produced. Agencies and academic facilities have fought hard to prevent the release of data that makes an independent assessment of temperature records possible.
(See here for Fred Pearce's account at the Guardian, and some words from Doug Keenan here.)
NOAA removed a significant number of stations from its global record between 1988 and 1992.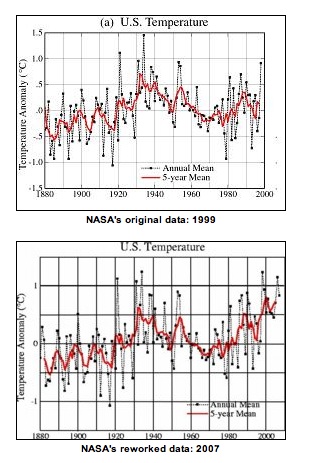 NASA's five-year temperature mean between 1880 and 2000 enjoys an uptick
The Watts work has significant implications. For example, work by climate activist and scientist James Hansen, who has overseen the NASA global temperature record's major increases, and Richard Muller's recent BEST programme - much in the news lately owing to his putative status as a "convert" to climate alarmism - use cruder station classification systems. Their statistical methods may be unimpeachable, but it now appears that they are using unreliable data sets. Both are particularly vulnerable given their reliance on land data: BEST makes no use of satellite sensors and buoys, which measure sea surface and atmospheric temperatures. (Sea covers approximately 71 per cent of the Earth's surface area, don't forget.)
For the curious, here's the temperature trend from the the Remote Sensing Systems (RSS) satellite's microwave sensors.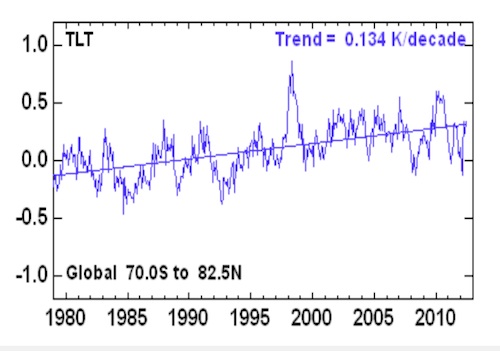 RSS microwave sensor temperature trend from 1980 to 2012 showing a 0.134K/decade increase overall
It is left as an exercise for the reader to compare the RSS trend with the NOAA land surface record trend, and the revised Watts et al trend. ®
Sponsored: Minds Mastering Machines - Call for papers now open