Top disk drive dog WD shakes off flood water, doubles its earnings
Record results despite 2 natural disasters, $4.8bn Hitachi acquisition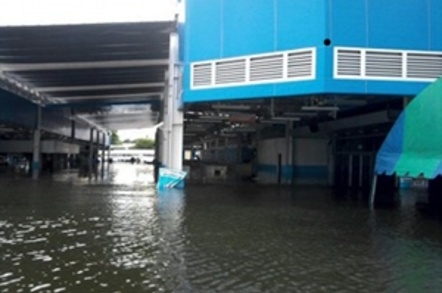 WD produced record results for its 2012 fiscal year despite two natural disasters and buying Hitachi GST for $4.8bn, the largest-ever acquisition in the disk drive industry.
It is overtaking Seagate in revenue and disk drive unit production terms and is the undisputed top disk drive industry dog. Where next?
WD beat the Street and Wall Street responded by bumping its shares up a couple of per cent to $32.47.
Revenues for fiscal 2012 were $12.5bn with profits of $1.6bn. Revenues for the fourth quarter were $4.8bn with a $745m profit. WD, meaning WD and Hitachi GST (HGST), shipped 71 million drives. Of these 7.9 million went to enterprises, 54 million went into the client space as WD describes it - notebooks and desktops, 4.2 million went into consumer electronics, 5 million went into branded (retail) sales, and 1 million drives were sold as solid state drives (SSDs), media players and routers. That makes the SSD shipment number a low one, both for HGST with its Intel technology-based Ultrastar drives and WD with its embedded market SiliconEdge drives.
Quarterly revenues were up from WD's year-ago quarter's $2.4bn and annual revenues were up from fiscal 2011's $9.5bn. Net Income was up from the year-ago quarter's $158m and the prior financial year's $726m. The company did not break out separate HGST and WD revenues and net income so we can't actually compare how the two subsidiaries have progressed in comparison to previous quarters and financial years. Instead we take management comments about growth in both subsidiaries at face value.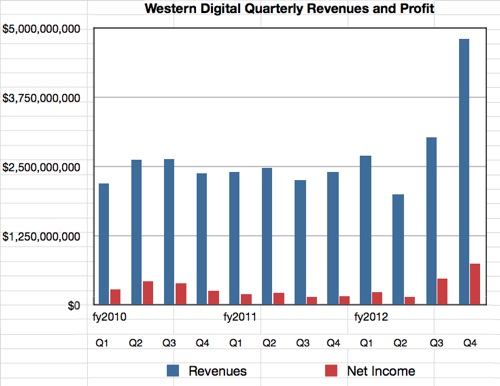 Not a great deal was said in the earnings call. CEO John Coyne did say: "I want to thank all our employees for their extraordinary achievements in one of the most challenging and exciting years in our 42-year history. While responding to two major natural disasters and completing the largest acquisition in the history of the industry, we achieved revenue growth of over 31 per cent and more than doubled earnings." Well, yes, you can excuse him in the circs.
WD thinks it can improve the cost structures inside WD and HGST separately as requirements from MOFCOM, the Chinese regulator, that the two must be run separately for two years prevent synergistic cost efficiencies being gained by combining HGST and WD operations. WD generally is ramping up to 500GB/2.5-inch platter and 1TB/3.5-inch platter area densities. It doesn't see or won't admit seeing any material effect on HDD unit sales of SSD shipments.
Where next? In a break with WD tradition the company will actually talk about forthcoming new products in a September analyst briefing. Up to now it's only talked about new products when they were announced and not before,
With this result WD, which has been tracking Seagate closely on a quarterly revenue basis, overtakes its long-standing rival. Seagate's latest quarterly figure is its revised expectation of its final financial 2012 quarter in the chart below by the way.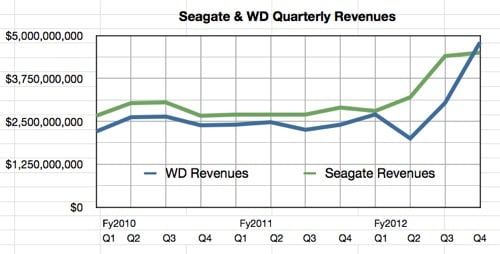 In a correlated announcement, and in the light of WD's acquisition of HGST, Tim Leyden, who was WD's chief operating officer, becomes president of the WD subsidiary, while Mike Cordano, ex-HGST EVP for sales and marketing, becomes president of the HGST subsidiary. Both report to Cordano's old HGST boss Stephen Milligan who is now president of Western Digital Corporation. He reports to WDC CEO John Coyne.
WD's outlook for its next quarter is for revenues between $4.2bn and $4.3bn, half a billion down at on best of this quarter's result. Wall Street didn't seem to mind. ®
Sponsored: Minds Mastering Machines - Call for papers now open