Apple Mac OS X 10.8 Mountain Lion review
Out on sale today, but is it all talk and power naps?
Made for Sharing
It's another way to make a computer more like an iPad but it really feels like suddenly the Mac has useful extra functionality. Indeed, this is a feature I'll keep using. I also like Sharing – you can see it on Safari as an arrow icon – as it enables you to send a photo, video and other content with ease by e-mail, Twitter, Flickr and more. Facebook will be added to that list soon too. It's useful, simple and though I've never felt the need for it before, it may inveigle itself into regular use because it's so effortless.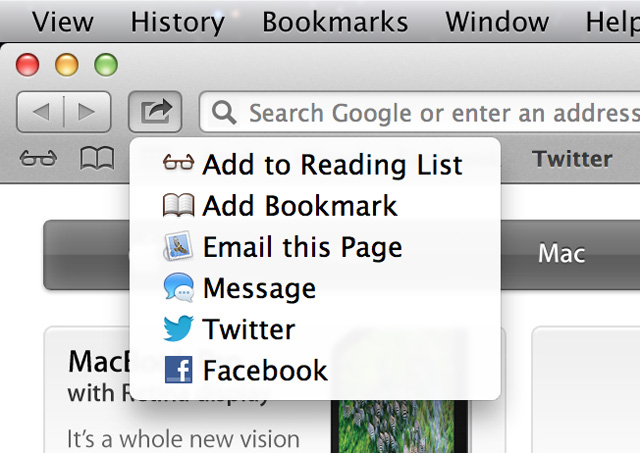 Sharing options on the Safari browser
Less compelling is Game Centre which has slipped across from iDevice to Mac, too. I rarely focus on this on the iPhone, so I suspect my usage on the computer will be the same. There's more, lots more, including a souped-up Safari browser which is noticeably faster than before and Twitter functionality baked right in, but these are the shiny features which have claimed my attention.
A word on pricing: at £21, last year's Lion software was not exactly expensive – about half the price expected for Windows 8 later this year – although there are always those who argue that some Apple upgrades seem more like service packs. That aside, this year's update is even cheaper – just £14 and for that, you can instal it on as many Macs as you have in your household.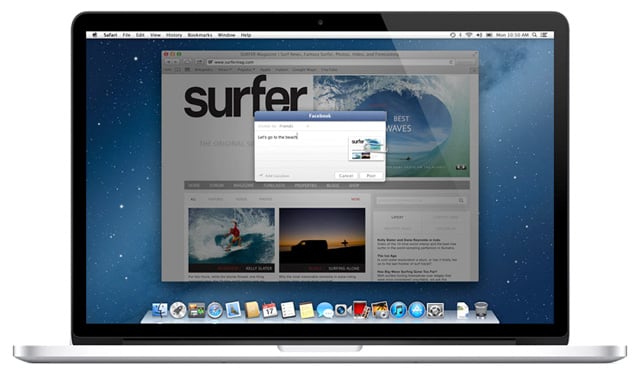 Sharing to Facebook is coming this autumn
Stability aside, it's the feel of an OS that matters for continued use, and this cat comes across as slick and confident. Apple is known for its capacity to deliver intuitive products and here the new applications feel innovative but also comfortable and recognisable. It's almost as if they weren't new at all, they feel so familiar so quickly. In a month or two, Microsoft will have its own new baby on display, and it may try and steal a march. But for now this is an OS that's powerful, attractive and even cool. The temperature may change when we found out more about how well it plays with third party products and discover if Mountain Lion is a pussycat or if it needs more taming. We'll let you know with a more in-depth review in due course. ®
Sponsored: RAID: End of an era?