Postgres-on-steroids wields bare metal in Oracle, IBM skirmish
TransLattice's database doesn't need no stinkin' OS
Clusters, clusters everywhere, but how to keep them in synch?
The TED database adheres to the normal ACID properties of a database, so don't think it is a NoSQL database like other sharded data stores that are coming out to support web-style applications these days.
TED does have a different means of handling access to data, however. In a normal database, there are row and column locking mechanisms that make all of the nodes in a cluster stop working while one node commits its transactions.
With TED, the consensus protocol watches all of the transactions flowing around the cluster, noting dependencies much as a compiler does when it compiles code on an explicitly parallel machine like an Itanium server. And then the consensus protocol spreads transactions across the cluster, ordering up the transactions, and commits them all on their respective nodes in a giant batch in one fell swoop.
The effect is that the database nodes are working all the time, and the substantial geographical latencies are masked by the clever data sharding and transaction commit methodology. A typical customer might have tens of thousands of database shards spread around their distributed cluster, all being kept in synch by the distributed global consensus protocol.
The TED management system similarly has a distributed query planner that understands the physical locations of database nodes and where the replicated data shards are located and takes ad hoc queries in and comes up with the fastest method to run those queries across the nodes in real time.
Obviously, high availability and database scalability are inherent in the TED design. If you need more capacity, you just fire up some more nodes in the places where the transaction loads are heaviest. You also have to beef up the locations where data is replicated for safe keeping, too.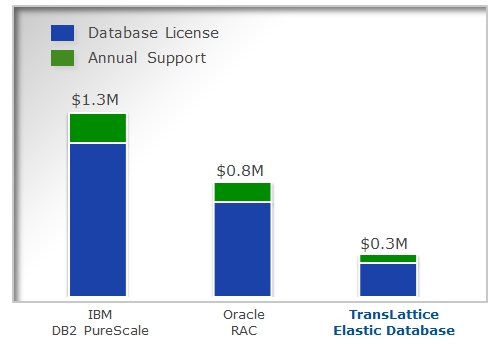 Cost of TransLattice Elastic Database versus clustered DB2 and Oracle databases
The TransLattice application platform appliance and the free-standing database both run on a hardened version of Canonical's Ubuntu Server that has had everything but the necessary features stripped out of it. This Linux image runs in a RAM disk on the server so it cannot be corrupted or changed in any way, claims Lyle.
The TED database doesn't need a full-fat operating system below it: the suite can be run on bare metal servers or packaged up in an Open Virtualization Format (OVF) and deployed atop the ESXi hypervisor. If you really want to, you could manually hack TED onto Microsoft's Hyper-V hypervisor, and TransLattice has done a lot of tweaking to the virtual instance so it can be packaged up into an Amazon Machine Image (AMI) format and run across virtual server instances on the EC2 compute cloud.
Lyle says that the database clustering runs atop TCP/IP and uses SSL encryption, and that gigabit Ethernet links between the nodes is sufficient for normal transaction processing. You don't need to go to 10GE or 40GE Ethernet or QDR or FDR InfiniBand.
"Even with 500 kilobit satellite transponders with 700 millisecond latencies in the field, the database still works," says Lyle.
Hewlett-Packard and Dell need a database of their own to build their software empires, and TransLattice might just fit the bill.
Pricing for the TED 2.5 distributed database is based on a node licence, whether it is a physical or virtual node. A single licence covers 16 cores (physical or virtual), up to 16 LUNs on the file system, and up to 96GB of main memory. Any time you bust through one of those limits on a box or a VM, you need to buy another licence. That license costs $79,000 per node, which includes one year of tech support and updates for the database.
If you want to run it on the TAP Appliance, which has specific tunings for PowerEdge server iron and related storage plus the tuned J2EE runtime, add another $18,000 for the physical box.
A five-node TED licence for a development cluster, which has no CPU, LUN, or memory restrictions but which cannot be used to run production workloads, costs $31,600. ®
Sponsored: Minds Mastering Machines - Call for papers now open