Russian cargoship fluffs Space Station docking test
Performance anxiety for new automated system
Russian cargoship Progress M-15M has failed to couple with the International Space Station in a test of its new automated docking system.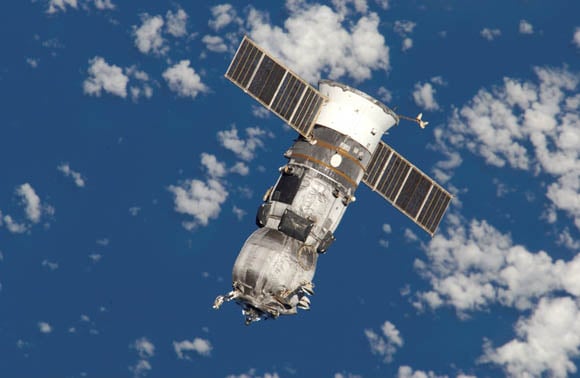 Russian Progress not making much progress today
Progress had already dropped off its supplies to the ISS, but it disengaged and backed up on Sunday to sit for 24 hours before attempting to berth with the station again using its Kurs-NA rendezvous system.
But the docking was automatically aborted by the craft when there was a failure while activating the Kurs-NA system, NASA said in a statement.
The cargoship was 161km from the station when the glitch occurred and has now backed up to 484km, Russian space agency Roscosmos and Russian Mission Control said in a joint statement.
Russian space experts will now have to figure out what cocked up before another attempt to test the system can be started. Whether or not Russian astroboffins solve the riddle in short order, they must hang tight until after Japanese cargo craft HTV-3 docks with the station on Friday.
The M-15M is orbiting 408km over the Earth, and has enough fuel to keep going and rendezvous with the ISS on Saturday or Sunday, the agencies said.
The new system is an upgraded version of the existing Kurs automated docking system, which the Russian ships have been using for years. ®
Sponsored: Minds Mastering Machines - Call for papers now open