Is running IT for the Olympics the worst job in the world?
The results will be in in August
But it's actually more complex than that
To add to the normal challenge of being a CIO, few of these suppliers actually have contracts with Atos or even are chosen by it. They cannot be fired. Unless, like Nortel, they go bust. Instead each has done deals with LOCOG and the IOC where a mix of money, goods and services are swapped for the chance to show off to a global audience. So Hyron can't allocate work based on competence, nor has she the same vocabulary of threats I would want to use on any potential misbehaving vendors.
However she's been doing this since 1992, requiring a mix of diplomatic skills that would make bringing peace to Palestine look easy given how badly any of us have seen some IT suppliers behave in terms of blaming each other or claiming that basic system documentation was a secret. One thing I respected about Hyron was her ability to project competence and confidence that it would all work.
So if I didn't know that government IT systems were maliciously bad, the fact her systems must work with people like the Border Agency would still be pretty daunting. The Border Agency – incidentally, another Atos customer – will be trying to keep bad people from getting accreditation and there are security agencies from any number of countries to keep sweet.
One of the biggest changes will hopefully be invisible since they've replaced a mess of ancient ad-hoc protocols for transmitting games data to partners and national Olympic committees with a single XML-based data stream, so that they can configure real-time results and stats onto their own sites.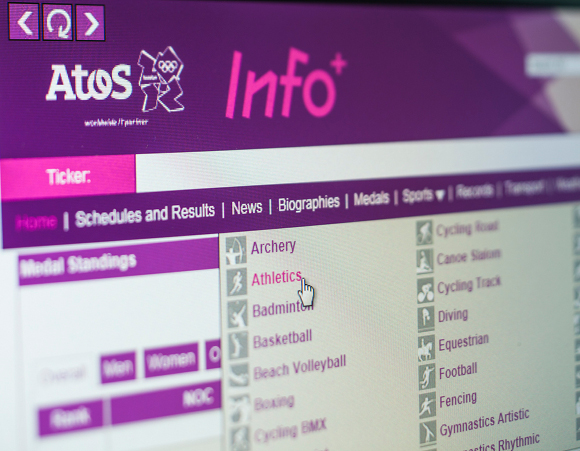 'Um, boss. I think I just deleted Athletics....'
Info+ - gives accredited media, officials and athletes access to info on schedules, rankings, weather, records and athlete biographies.
Your outfit is probably just coming to terms with supporting consumer tech like smartphones and tablets brought in by users. Atos is going to have 27,000 journalists turning up with pretty much every device known to man, configured in ways that would make hardened sysadmins cry, all while preserving security and not letting them accidentally trash each other. Given that from their perspective this is a marketing event, they really don't want that many media people writing about system failures stopping them delivering copy.
Part of this requires BT to make a truly enormous Wi-Fi hotspot array work first time, Personally I've never seen big Wi-Fi work in any useful way, even the second or third time. Hyron's team are also providing a drop-in facility to resolve the IT problems faced by 27,000 media people far from home.
British PFYs and BOFHs
Nearly all the technical staff are British, since apart from the Barcelona software development team, only eight ATOS staff are carried over from Beijing, along with 70 student interns and half a dozen trainees. Internships are routinely abused by some firms as a way of not paying for entry-level labour, but Atos is actually doing the decent thing and paying undergrads from places like Queen Mary's College just down the road.
Security
Atos is collaborating with the Border Agency on accrediting the 70,000 volunteers, 27,000 media, sponsors, etc as well. So out of the total of 250,000 people with some form of backstage pass, only 4,200 are actually athletes. That horde means there's upwards of a thousand scanners and PCs to install and support and any number of people trying to fake tickets, crack the systems or generally cause trouble.
The accreditations are mildly biometric, so just scanning your mate's shouldn't work, but until the day no one will really know. There is a disaster recovery centre, which unlike the main secret control centre doesn't have a big sign announcing its presence. Hyron's team have actually run events in London already without Ticketmaster-level issues, but The Reg will be there to diagnose the mess if and when it goes wrong. ®
Sponsored: Minds Mastering Machines - Call for papers now open