Canon debuts EOS M compact system camera
Better late than never
Seemingly bowing to peer pressure, Canon has finally unveiled its own compact system camera, the EOS M. A mirrorless interchangeable-lens snapper that features its new EF-M lens mount and an 18Mp APS-C CMOS sensor.
Rather than try a new imaging format, Canon is playing it safe with DSLR tech in a small body and competing with Fujifilm's X-Pro1, Sony's NEX and Samsung's NX CSCs. Only the Pentax K-01 retains an existing DSLR lens mount in this arena. Indeed, the EOS M sensor and Digic 5 processor are the same found in the company's entry-level DSLR, the EOS 650D.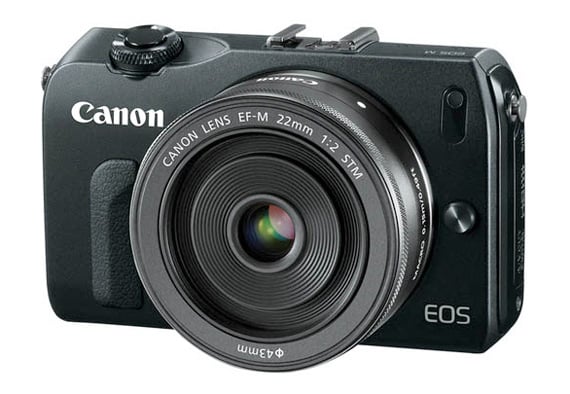 The EOS M has an ISO range of 100-12800 with sensitivity extendable to ISO 25600 for see-in-the-dark shooting. A 3in capacitive touchscreen graces the rear, although there's no articulating panel to keep film-maker's happy. Still, when it does come to videography, the EOS M records full 1080p video and benefits from the new sensor-based AF system, which makes use of contrast and phase detection to continuously keep things sharp.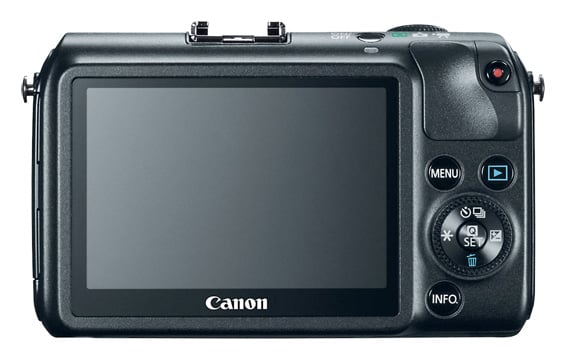 The APS-C sensor maybe a standard format, but Canon has gone to the trouble of developing an entirely new lens system, although older lenses can still be used by way of the EF-EOS M adaptor that the company claims is compatible with the full range of EF and EF-S lenses. As for the EF-M design, two lenses are available from launch; the EF-M 22mm f/2 STM pancake and the EF-M 18-55mm f/3.5-5.6 IS STM standard zoom.
To save space there's no built-in flash, although Canon's new external gun – the Speedlite 90EX – should do the trick and comes shipped with the EOS M as standard.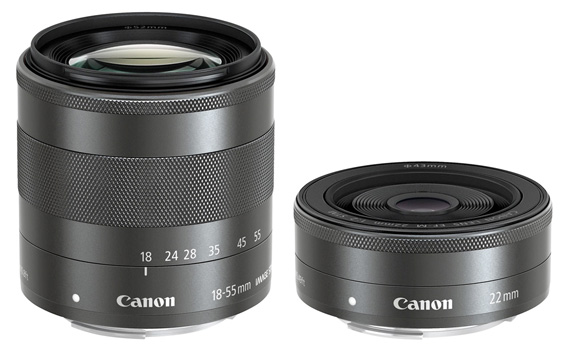 The Canon EOS M rolls out in the UK from October 2012 for £950 with both lenses. That seems a little pricey for this NEX competitor, but we'll give you our proper assessment when we actually get our hands on one.
For EOS M sample movies and images, have a gander at the Canon website. ®
COMMENTS
Re: EF-M? Why?
Optics.
There's a different flange-to-sensor distance in mirrorless cameras, and lenses are designed around one specific distance. Slap on a lens designed for a different distance, and you end up with a blurry mess (try taking normal photos with a macro extension tube fitted to see what I mean).
The adapter isn't just there to force you to buy a new range of lenses, it is there to replicate the exact lens mount configuration of an EF camera.
If you have a look at an EF-S lens mount, you'll see it protrudes further into the mirror box than a normal EF lens does. This is why you can't just mount em onto a full frame camera, because the mirror would smash into the end of the lens. Canon's APS-C dSLR cameras are actually bigger than they really need to be in order to let you use their older EF lenses. A mirrorless interchangeable lens camera, on the other hand, has 'small size' being one of its major selling points, and there would be little point bloating the whole thing up to accept normal lenses.
Re: Levente Szileszky
Larger sensors are, all other things being equal, better. They collect more light for the same f-number.
Re: EF-M? Why?
Probably because full blown SLR lenses are heavy, bulky and probably much better than is needed for such a camera. Why buy a small camera then have a gigantic heavy L series weather-sealed lens hanging off it?
The adaptor is for someone who happens to have some lenses already.
Re: Why not Sony or Oly?
@Anonymous Coward,
No, Shorter focal length lenses on a smaller sensor do not give the same control over depth of field that an "equivalent" focal length will give on a larger sensor camera.
For an extensive discussion on the pros and cons of various sensor sizes see this...
http://www.sansmirror.com/articles/pick-a-size.html
I do agree with your comments about portability. I would love everything in a small, pocketable package. However, I can't agree that the image quality achievable from a m4/3 in any way rivals a full frame sensor. I'd love to see a FF sensor in a more compact body - I suppose the Leica M9 is currently the smallest option but, as you say, progress is slow.
It isn't when you think they've not given it the ability to have an EVF. Imagine trying to shoot at arms length with one of your EF lenses on the adaptor! Shaky as hell.
Don't know why, but Canon always seem to be able to slip an epic fail into products with great potential - 5D MKII has substandard focussing (9 points, 6 assist) that was remedied with the MKIII, the G1X is just slow, and this has no EVF.