Australians receive SMS death threats
Police point out hitmen are not actually chasing you, ergo cannot be bought off
Hundreds of Australians have received unsolicited TXT messages in which their imminent demise is predicted, along with an offer to avoid a hitman's gunsights if they fork over some hard-earned.
The messages read as follows:
"Someone paid me to kill you, get spared, 48 hours to pay $5000.00 if you inform police or anybody death is promised. Email me now"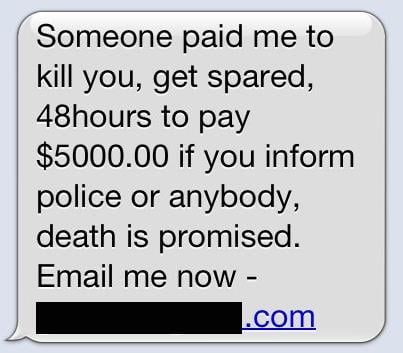 Police forces around Australia say they've had hundreds of phone queries about the messages, which clearly aren't scaring everyone into forking over the cash. And nor should they: everyone knows real hitmen are impeccable punctuators.
But it seems inevitable that someone has, by now, fallen for the scam. Police in the state of Queensland regularly report on residents' losses to West African scammers, which were estimated at AUD$2million a month in September 2011.
Anyone receiving the message is urged to report it to the Australian Competition and Consumer Commission, in the hope the issuing phone number and email address from the message make it possible to bring these fiends to justice. ®
Sponsored: RAID: End of an era?