Office Web App upgrade adds long-needed features
And – for better or worse – the apps look like Office 2013
Coming on the heels of Microsoft's Office 2013 announcement, Redmond has launched a new version of its browser-based Office Web Apps, which are available now to SkyDrive users who join the preview program.
Mike Morton, group program manager for Office Web Apps, detailed the changes in the new version in a Friday post on Microsoft's newly-launched Office Next blog.
While it still seems unlikely that anyone would mistake the Office Web Apps for an office suite suitable for everyday use, the revamp brings some welcome new features that should attract some new users, as well as making the suite more competitive with its rival, Google Docs.
The first thing users will notice when launching the new versions of the apps is that – SURPRISE! – they've been given a makeover to match the look and feel of the Office 2013 desktop applications. Yes, that means the top-level menu labels are displayed in ALL CAPS.
In keeping with its Windows 8 strategy, Microsoft has updated the UIs of the Web Apps to be more touch-friendly. Buttons are spaced farther apart and UI controls have been rejiggered for use by fat fingers.
The revamp does bring some added features in each of the apps, but few of these are truly innovative. Most are meant to address deficiencies in the original version of the product.
For example, Word App users now have more control over text layout, including page size, margins, paragraph spacing, indentation, and other items that are second nature to anyone using a desktop word processor.
The Word Web app also finally gains the ability to count the number of words in a document. ("We were surprised at how many customers gave us feedback wanting this feature," Morton writes.) But it still can't count words in highlighted text and it always gives the count as a best guess, rather than a hard number.
The PowerPoint App adds the ability to edit slide transitions and animations from within the browser, and web-based presentations can now play movies, complete with all the standard playing controls.
Excel App users can now do more kinds of data analysis, including QueryTables, PivotTables, and more kinds of charts. It can also now display documents in a "print-friendly view." (The Word app only offers the ability to print to PDF.)
Morton writes that there have also been performance improvements across the suite. The UI should no longer slow down when editing larger documents, and the revamped drawing tools are much faster, he writes.
The Web Apps are built with standards-compliant HTML5, and Microsoft says they should work in any modern browser, including Chrome, Firefox, Internet Explorer, or Safari. No word on Opera, but Microsoft reps have told El Reg informally that it will probably work.
Microsoft has also improved the Web Apps' support for mobile devices. "With this latest release, we now provide a high-quality reading experience that takes advantage of today's modern smartphones, including Android and iOS," Morton writes.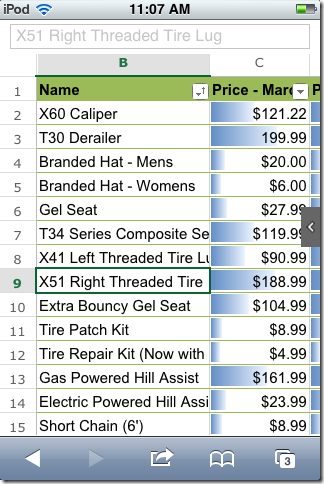 They even work on your shiny-shiny – but not a lot
I tried it on a Galaxy Nexus running Android 4.1 and it was indeed snappy. Bear in mind, though, that a "reading experience" means just that. You can't edit documents, and not a lot of formatting is preserved. If you want more than that, unfortunately, trying to use the non-mobile version of the Web apps on a mobile device is still painful.
Current SkyDrive users can see the new versions of the apps starting today by enrolling in the preview program using a link that Morton provided in his blog post. ®
Sponsored: Minds Mastering Machines - Call for papers now open