View 21 readies content-flinging Freeview DVR
Tablet vision
First look Harvard International, the company behind the iLuv and Goodmans gadget brands, revealed its latest venture this week: View 21, which will launch a Freeview DVR with on-board IPTV apps and mobile integration next month.
The View 21 Smart HD DVR attempts to tie all telly activities together in a user-friendly package and it's certainly the UI - as well as its snazzy iOS support - that makes this box stand out from the crowd. The UI puts catch-up apps onto the EPG screen - though not in the guide itself a la YouView - for easy access.

View 21 features 1080p video output through HDMP, Ethernet for network connectivity, twin DVB-T2 tuners and all the regular pause, fast forward and rewind controls for live TV that you'd expect to find on a DVR.
It comes with up a 500GB HDD - there'll be a second, cheaper model with a 320GB drive later in the year which we were told can be easily swapped out for a more capacious unit. You might get an incorrect capacity readout with the current firmware, View 21 staff suggested, but you can certainly upgrade the drive. Handy that, since the DVR's USB port can't yet be used to connect extra storage.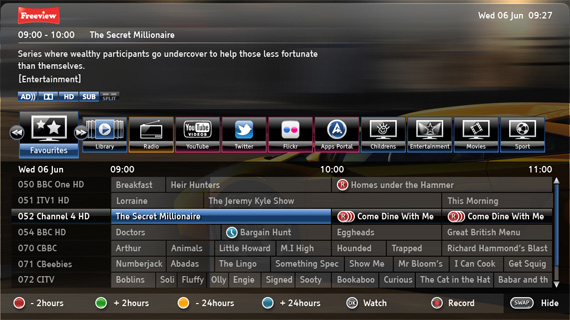 The channel roster is limited to Freeview HD and its on-demand package is nothing exciting. Four apps will be available upon release: YouTube, Flickr, Twitter - viewing only; you can't post messages - and, it's hoped, BBC iPlayer, for which it's awaiting Corporation certification.
Whenever iPlayer support arrives, an expanded line-up of content will apparently be added to the View 21 box after release through software updates.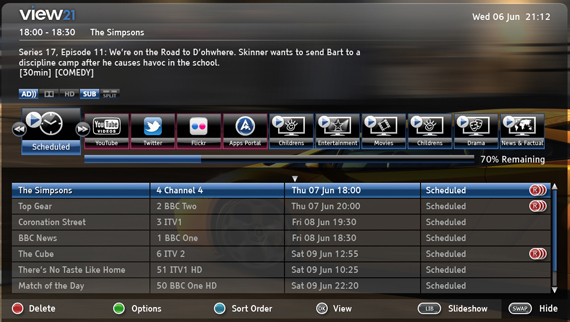 With the iOS functionality, things look highly positive for View 21. The company pushes the boat out further than most set-top box iRemotes by allowing live content, or anything recorded on the hard drive, to be streamed to the mobile device.
While this is restricted to one device at a time, users can effectively watch a recording on an iPad, a live channel on the telly while still recording footage of another show on the HDD, all at the same time.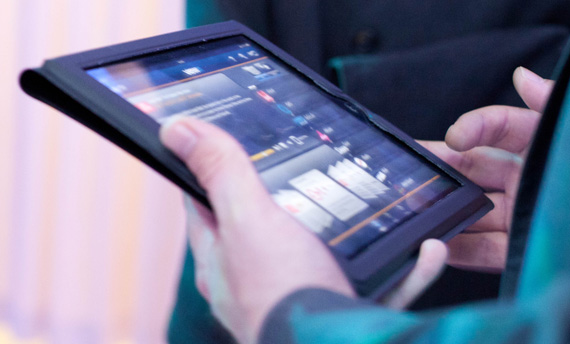 The app will be available at launch, along with another, View 21 Photo, which will fling your iPhone snaps to the DVR to display them on the bigger screen.
Android versions of both apps are in development.
While exact pricing and availability has yet to be formalised, expect to see the View 21 DVR on shelves for the end of August for £200-250. ®
Sponsored: Minds Mastering Machines - Call for papers now open