Pentax K-01 16Mp APS-C hybrid camera review
Mirrorless maverick for grown-up lenses
Zoom with a view
Put a fast prime lens on a K-01 and you'll be working with razor-thin depth-of-field which requires careful composition and precise focusing. The K-01 lacks the phase-matching detection autofocus found on the K-5 and many other DSLRs, leaving you with the slower and less-effective contrast detection AF system used by most live-view cameras. Focusing speed is also highly-dependent on your lens, the kit zoom lens not being very quick at all and faster lenses being considerably better at focusing in low light.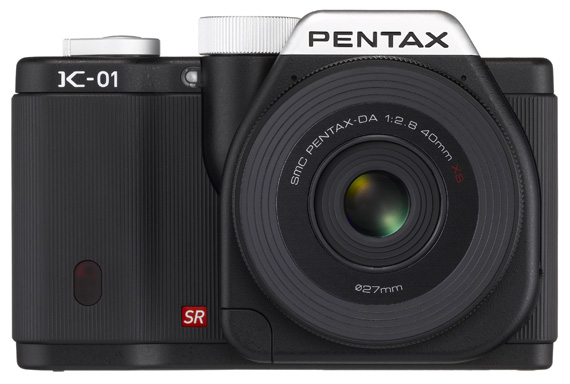 Plenty of room for extra function buttons – in the next version perhaps?
Thankfully, Pentax has included a few features to help you nail the focus. There's a dedicated focus assist light and an AF auto zoom function. The latter will zoom in the live-view image automatically as you compose to help you check focus as though through a loupe. More interesting is the 'focus peaking' feature which highlights and sharpens the edges of in-focus portions of the image so you can see at a glance which elements are sharply focused. This is especially useful when using manual focus, although I found it wasn't quite precise enough when the depth of field is really narrow, such as when taking a macro shot.
Also missing from the K-01 are several of the K-5's physical controls. Perhaps Pentax thought a second control dial would break up the clean minimalist lines or intimidate the novice user. Even so, there are vast areas of empty space on the body left unused where useful additional buttons could have been situated. You do, however, get a pair of customisable buttons, one red and one green, with which you can make your favourite functions more accessible.
By default, the red button immediately starts movie recording, which is available in resolutions up to 1080p at up to 60fps with sound captured in stereo from the built-in microphone. The green button functions as a sort of panic switch, instantly cancelling any exposure adjustments you've made to allow you to fire off a shot quickly with sensible settings.
Several other functions can be assigned to either button, including depth-of-field preview, focus peaking, one-shot JPEG+RAW capture and adding one of the many available digital filters. It's almost shame to subject the K-01's images to such effects but, a must-have for the Instagram generation. There are 17 treatments provided, including such favourites as watercolour, pastel and miniature effects, as well as more useful ones such as a monochrome mode and various colour filters.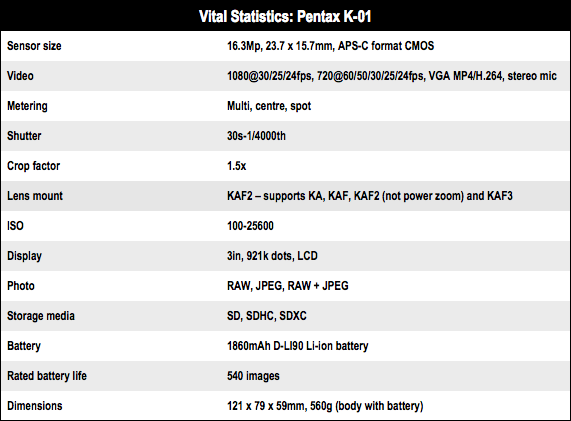 Sponsored: Minds Mastering Machines - Call for papers now open