Where there's brass, silver and gold ... there's also muck
The great Olympics clean-up challenge
Sticky situation
In Cardiff, where the Millennium Stadium will be hosting football, the Chewing Gum Action Group (we are not making this up) recently handed out free wrappers to encourage Welsh chewers not to spit their gum onto the street. We don't know what they did with the wrappers.
To drum up support for Cardiff's war on gum, a local reporter used street-attached gum blobs as tiny stepping stones to lope from the railway station to Cardiff Castle. If you don't have tickets for the football, we cannot think of a better way to enjoy yourself in Cardiff this summer.
Used gum is not all bad: it has the property of making smoke particles stick to it. So it appears that by contrast with Cardiff, London doesn't have enough gum on its streets because it has world-beating amounts of exhaust fumes.
London's airborne rubbish contributes to pollution levels that, for some types of particle, are now as bad as those in Beijing in 2008.
A specially adapted gritting lorry is spreading adhesive on our busiest streets to glue pollution to the ground, so be careful where you take a nap if you miss the last tube home. You can see Mayor Johnson's Pollution Suppressor in action here.
Food for thought
The catering operation, where the clean-up problem is only just beginning, also gives rise to some Olympic-style remarkable statistics.
This is the world's largest ever peacetime catering operation, which means the Olympics will create a big pile of food rubbish too.
Locog tells us that, quite apart from the stadia, there will be – numberbomb! - 800 spectator concessions featuring more than 150 types of dishes that "will showcase the great diversity and quality of British food".
The reputation abroad of British food partly accounts for the second part of the statement: "There will be 8,000 tonnes of waste, and 40 per cent of this will be food/food-contaminated."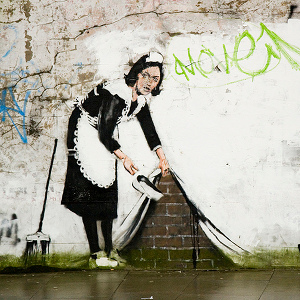 Not all graffiti will need to be washed off... Banksy's "Maid" at Chalk
Farm is always hard at work. Pic credit: Dan Brady CC BY 2.0
We are accustomed to seeing pictures of the Olympics organisers standing in front of the stadium in suits or being matey on the news with Jessica Ennis. But there has to be someone behind the scenes to make sure we don't notice the mess we have made.
The Olympics "Rubbish Czar" is Jan Matthews, head of catering, cleaning and waste. She is in charge of 22,000 contractors, delivering 14 million meals between June and September and removing – stat attack! – 712 cubic litres of horse manure.
When she visited Vancouver two years ago for the Winter Olympics, the scale of the waste removal operation there persuaded this Red Adair of equine dung to get in training for the job and shed seven stone.
This means that if one of our relay runners were to eat a dodgy curry, she could undoubtedly step in at a moment's notice on the anchor leg.
What a story! It would make Chariots of Fire seem like an afternoon playing gum hopscotch in Cardiff. ®
Sponsored: Minds Mastering Machines - Call for papers now open