Readers fret over LOHAN's chilly bits
Will igniter batteries clap out at -60°C?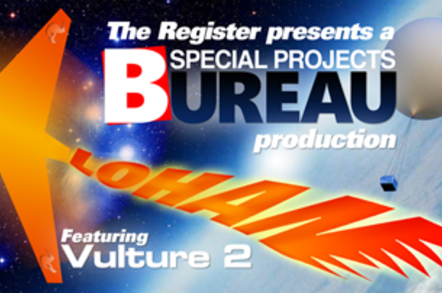 As the ongoing saga of our Low Orbit Helium Assisted Navigator (LOHAN) rocket motor igniter continues, readers have been expressing concerns that the igniter batteries are going to suffer from the extreme cold at altitude.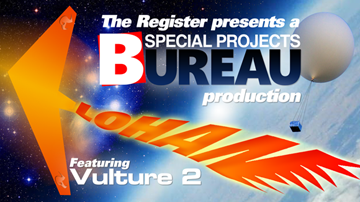 As we explained earlier this week, our current igniter box packs eight AA batteries. These pump out 12V at a current more than sufficient to fire the custom incendiaries brewed up by reader Rob Eastwood, following the failure of the AeroTech and Cesaroni igniters to fire their respective main charges in our first Rocketry Experimental High Altitude Barosimulator (REHAB) tests.
We should note that the 12V system is a standard rocketry set-up, and not necessarily the definitive power pack which will be responsible for sending the Vulture 2 spaceplane heavenwards.
A few of you pointed out that the best AA battery for the job is the Energiser Lithium, which has a proven track record on High Altitude Ballooning (HAB) missions.
However, others didn't much like the AA approach. Schultz said:
Why waste so much weight on ignition batteries? Stack a few coin cells to get to your desired voltage and use a capacitor to ensure a decent current density. Make sure you test the whole set-up at cold temperatures.

OTOH, you might want to carry one battery to run everything (camera?!). A continuous discharge should keep the battery warm.
It might be tempting to use just one battery on the grounds of weight, but it's a real no-no in our book. If the single power source claps out, the whole mission is an abort. We prefer all our electronics, including cameras, to have their own power supplies.
But what about those coin cells? Morzel reckoned we should go with "4 smaller 3V lithium photo batteries (eg Energizer 123)", but said if were were determined to go with AAs, the lithium types "perform way better than alkalines".
He added:
Also, I'd want to be really sure that the mechanical stress in/on the box due to the freezing temperatures does not introduce extra electrical resistance due to a bad mechanical contact - that's 8 battery-to-battery connections of which only one has to fail sufficiently to result in a no go. Other than that, 8 batteries weigh quite a bit (without the enclosure 8 AA alkaline batteries will be about 200 grams, 8 AA lithium around 120 grams), which is lifting capacity you'd rather use to get your balloon to a higher launch altitude.

For a relatively short trip, you can try insulating your battery box with styrofoam and maybe add an exothermic heater (hand heater pads) to keep the temperature of the batteries acceptable, but this also adds more weight.
Well, let's rewind to our Paper Aircraft Released Into Space (PARIS) mission to see just how we handled battery insulation.
The Vulture 1 aircraft was carrying a APRS/GPS telemetry transmitter powered by a 4.2V 750mAH Li-Po cell:

Since there was no practical, lightweight way to heat the unit, we simply encased it in styrofoam...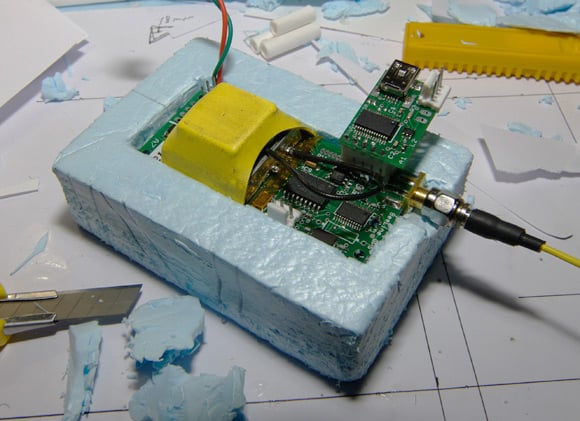 ...and mounted it inside the fuselage with the GPS chip exposed: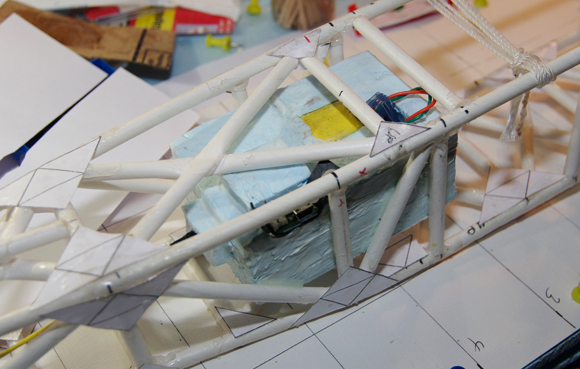 This worked a treat, and the same APRS/GPS will be returning to the upper atmosphere aboard the Vulture 2.
All the other PARIS kit, including cameras and our mechanical release mechanism, sat inside a big styrofoam box, called the "main payload". The Canon A560 stills camera had its own compartment, and since it was exposed to the atmosphere through the lens opening in the box, the compartment was lined with space blanket: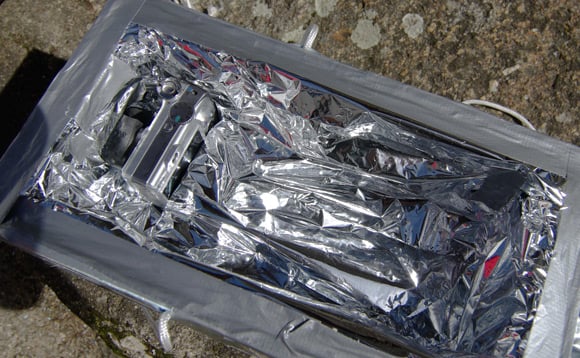 To keep the compartment's internal temperature up, we threw in a couple of handwarmers just before launch, which did the trick.
For LOHAN, we'll be using a similar styrofoam container, mounted inside the structure of our fantastical flying truss, as seen in our latest mission summary: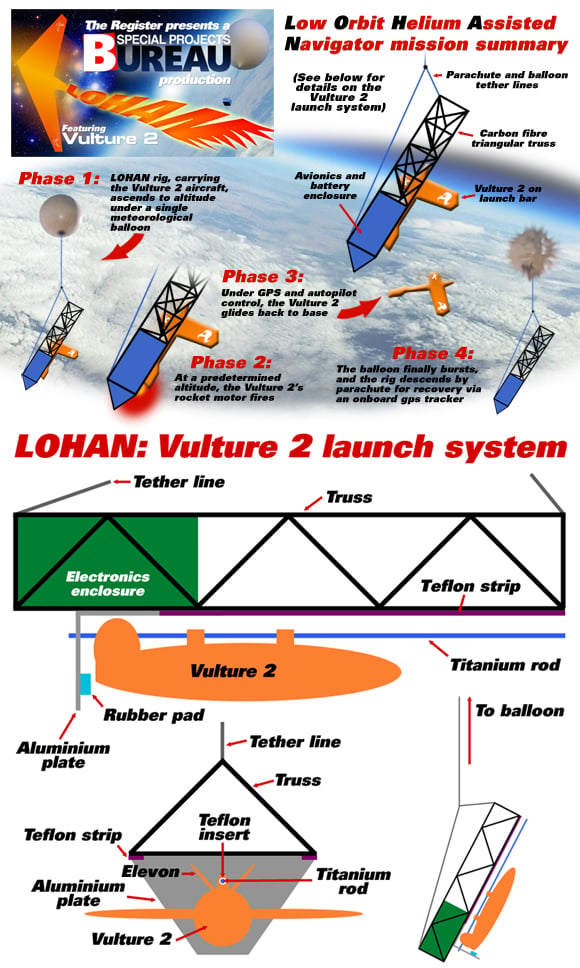 So, it's a pretty simple matter to keep the igniter batteries warm, since we can have them inside the styrofoam box and insulate/heat them as required. We're currently debating just how to mount video/stills cameras on the truss, but if they're outside, we'll move their batteries inside the box as well.
In summary, fret ye not about the batteries, or indeed their weight. The difference between using lithium AAs and coin cells isn't worth worrying about in relation to the total weight of the truss, Vulture 2, etc.
Finally, concerned commenter "the hatter" raised another matter about Rob's custom igniters, which as you can see have two Plastic Igniter Cords (PICs) designed to pass through the rocket motor nozzle: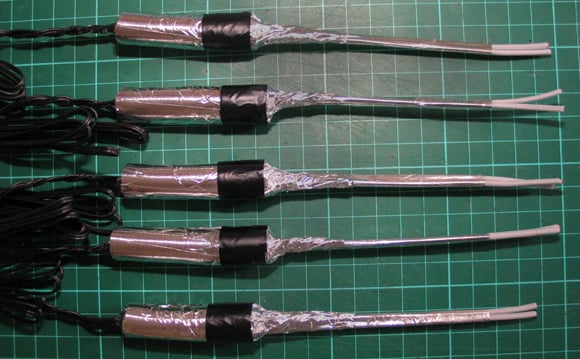 He doomwatched:
You'll probably manage to get one strand of PIC through the nozzle and slot, but no chance of getting both strands. If you find/make ematches with finer wire than you generally see, you could thread two matches into the motor, one higher than the other, for redundancy, with a scrap of blackmatch and a scrap of PIC. You'll want to be pretty sure there's enough room for all the wire to be spat out past the nozzle when the thing lights though, else it'll be much more spectacular than intended.
Rob specifically asked me to measure the nozzles on both our AeroTech and Cesaroni test motors (3mm in both cases), so you can all sleep soundly in your beds knowing that this potential pitfall has been addressed and avoided.
Thanks as ever for all your invaluable input. Keep it coming, as we prepare for round two of REHAB tests. ®
Further LOHAN resources:
Sponsored: Minds Mastering Machines - Call for papers now open