Oracle tries to bust out of storage also-ran box
Software giant: Basic storage kit? We do that too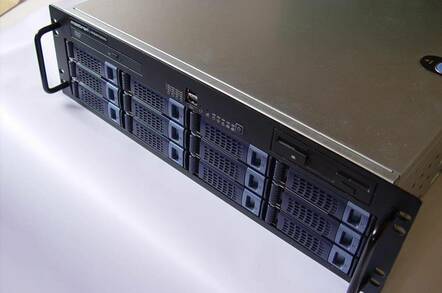 Oracle says it is seeing strong growth in its NAS, SAN and tape storage portfolio. Maybe a high-end Axiom array is coming but, even so, there's no sign Oracle is about to emerge from the IDC Storage Tracker's "Others" category.
The data excludes Oracle's engineered Exa- systems (Exadata, Exalytics, etc) and refers to basic storage products.
The evidence cited by Oracle is that:
Sun ZFS StorageAppliance sales have grown by more than 200 per cent over the past year and the boxes are installed in 40 of the Global Fortune 100 corporations.
More than 100 new customers in over 25 new countries outside the USA have bought Pillar Axiom disk drive arrays since Oracle bought Pillar in-house at the end of June 2011.
Customers have bought more than 2EB of tape cartridge media for the high-end T10000C tape drives as used in the SL3000 and SL8500 tape libraries, with the shipped capacity doubling bin six months.
The Pillar info is interesting, as we can say that a growth rate of approximately 100 new international customers in 13 months is over seven a month. Each one must have bought at least one array and we could roughly guesstimate Oracle has sold 150 Axiom arrays to new international customers in that time.
There's no data on Axiom's sales to existing customers. The top-end Axiom 600 had a follow-on project called Napa we found out about in March 2010. It was then envisaged to be three times more powerful than the Axiom 600, with around 1,600 drives and be capable of a million IOPS using SSDs. The thing used 10 re-engineered smaller Axiom 300s as modules, linking them over InfiniBand.
Since then the Axiom 300 has disappeared and Pillar's hardware development has gone quiet. Oracle's issuing of a storage sales growth press release citing Pillar indicates that, behind the scenes, Axiom hardware development is taking place. We wait and see.
In the ZFS Storage Appliance world, the product is under competitive assault by other arrays, including the traditional NetApp kit – EMC's VNX and IBM's V7000 – which has trounced the Oracle box on an SPC-1 benchmark.
These results could reflect an Oracle focus on engineered systems. Storage is part of a converged software and hardware system, so price savings compared to "buying the bit" separately wouldn't motivate Oracle to provide storage hardware outside the engineered systems at price/performance levels to beat similar products from EMC, NetApp and so on.
We don't see Oracle as an identified storage supplier in IDC's Storage Tracker: it is still included in the "Others" category. If it wants to rival the storage big boys, then sales for products like the Axiom are going to have to grow at far higher rates than seven international customers a month, and major hardware and software development is going to be needed for that. ®
Sponsored: Minds Mastering Machines - Call for papers now open