Tape juggler gets BILLION FILE capacity
'Ingesting' petabytes and, ah, moving them outside itself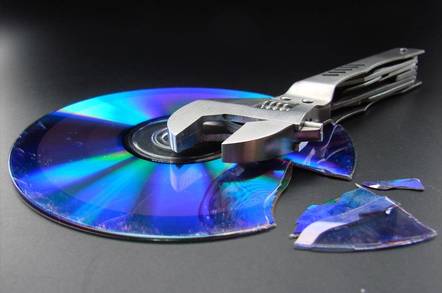 Quantum has raised its StorNext storage virtualisation software's game, adding support for up a billion files, automatic archiving onto tape and tiered tape storage. Meanwhile its share price has abruptly fallen to levels seen two years ago, as if all the recovery work since then has been worthless.
StorNext presents a single pool of storage to workstations and servers that is in fact multiple pools, including primary and secondary, deduplicated disk storage and can also include tape.
Version 4.3 of StorNext now supports up to a billion files. Incoming data can be automatically written to tape with a stub left behind on disk, termed archive on ingest. The tape storage can be divided into tape cartridges on robot-accessible active shelves, and tape completely offline outside the library in what Quantum, oddly, calls Active Vaults.
It says user-defined and site-specific policies can automatically nominate tapes to be placed in the Active Vault. Their location is tracked and their integrity monitored; they are not forgotten. When data on them is needed an operator is alerted to move them from the Active Vault to the active shelves of the library.
We should note here that this is a way of increasing a library's logical capacity without increasing the actual physical size of the library.
There is a need for this because, at petabyte scale, incoming files can be so large in number and size that a disk-based repository could simply fill up and judder to a halt. Archive on ingest reads them in and then truncates them, sending the bulk of the file to tape and leaving a speed-accessible stub in the disk-based repository.
The additional flood of data coming to the robotic tape library could overwhelm that too in time, hence the policy-driven migration of tape cartridges out of the library and into Quantum's (less) Active Vault.
V4.3 can get data to workstations and servers using its Distributed LAN Protocol (DLP) faster than by CIFS or NFS. It also adds the ability to manage capacity on a per-project basis.
Meanwhile, out in the investing world Quantum shares are being shredded, having fallen to $1.25, a value last seem in August 2010 and a response to its latest, disappointing quarterly results, announced earlier this month. Once more Quantum faces an uphill struggle to regain Wall Street's regard. ®
Sponsored: Learn how to transform your data into a strategic asset for your business by using the cloud to accelerate innovation with NetApp