Fresh shift of 'nauts comes aboard space station from Soyuz podule
What craft needs 83% of its crew to be flight engineers?
The latest shift of 'nauts has successfully boarded the International Space Station for their stint of orbital duty, arriving at the sky-high outpost last night (UK time) aboard a Soyuz TMA-05M spacecraft sent up from Russia.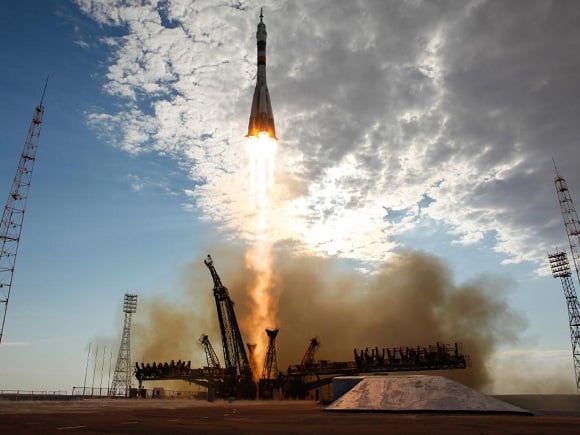 Off to work, heigh ho
NASA astronaut Sunita Williams, Russian cosmonaut Yuri Malenchenko and Japanese spaceman Aki Hoshide swelled the complement of Expedition 32 - the current crew of the station - to six. There have been only three 'nauts aboard the station since the end of last month, when the trio now being replaced re-entered the atmosphere and parachuted in to land on the Kazakh steppes in their own Soyuz.
All three newcomers are assigned as ISS flight engineers, joining Joe Acaba and Sergei Revin in that job description under the command of station skipper Gennady Padalka. When Padalka departs, Williams - a US Navy chopper pilot by background - will take command of the ISS. She and the other two fresh crewmen are expected to remain on the station until November.
At present, station crews are completely reliant on Russia's Soyuz craft to get to and from the station, a situation which has caused some angst in the USA (which paid the lion's share of the bills for the ISS to be constructed). Following the departure of the Space Shuttle, America possesses no man-rated craft and launch stack able to carry crews to the station and bring them down again - though President Obama has controversially retained the "Orion" capsule from the now-axed Constellation moonbase programme.
An Orion could theoretically be sent up to the station unmanned (the US has no man-rated launch rockets that could carry it), there to serve as a crew lifeboat and/or bring a departing crew down - President Obama mooted this possibility when he reprieved the craft from cancellation.
NASA has plans for a new, huge man-rated rocket - the SLS - which would esssentially be a large wingless Space Shuttle that would be thrown away every time. This strongly resembles the Constellation Ares V plan, however, and there seems no reason why the USA can suddenly afford to build such a thing when it couldn't before.
In any case, Orion and SLS are officially designated for deep-space missions beyond orbit. They are acknowledged to be needlessly expensive and fancy for the task of hauling crews to and from the ISS.
America's leading contender to replace the Shuttle doesn't come from NASA and the established US rocket monopoly, United Launch Alliance. Instead it comes from upstart startup SpaceX, founded and originally bankrolled by online nerdwealth kingpin Elon Musk.
Musk's Dragon capsule has already proven itself capable of reaching and docking with the station without mishap - it brought up a load of supplies just six weeks ago, launched by a SpaceX Falcon 9 rocket, before returning successfully to Earth with a consignment of bits and pieces.
SpaceX expects to deliver a manned Dragon in the near future - and furthermore, one able to set down precisely on retro rocket thrust at a pad for easy turnaround and re-use - rather than the more troublesome and costly splashdown or thumpdown in the ocean or desert as seen by space capsules to date.
Space flights are always exciting news - but it has to be admitted that the Dragon flights of the future are going to be more exciting than missions by the aged, workaday, Cold-War-era Soyuz as we have this week. ®
Sponsored: Minds Mastering Machines - Call for papers now open