Will the titans of storage decide to flash their bits?
What religion do you suppose the Pope is
Flash industry from 20,000 feet
The flash industry is basically simple, with a two-layer model; flash fabs or foundries make chips which are incorporated into drives with controllers and firmware. It's semi-conductor based with no complex electro-mechanical components at all; solid state.
There are four main flash foundry owners and operators; market leader Samsung, second placed Toshiba, Micron and Intel with Intel Micron Flash Technologies (IMTF) which Micron dominates, and number four Hynix.
There are many flash drive suppliers in addition to the four flash fab operators and the disk drive makers, and these include Corsair, Fusion-io, LSI, OCZ, OWC, SanDisk, Plextor, SMART, STEC, TMS and Virident. Apple makes flash drives for its own use in iPads, etc. The others sell drives to all comers.
Flash controller products come from companies like Marvell and LSI.
Server flash used for caching needs caching software and this comes from the server flash drive suppliers, such as OCX with SANRAD, independents like Nevex, Proximal Data and VeloBit. Combined server flash HW and SW comes from EMC with its VFCache product, using Micron and LSI SSDs, and Dell is developing its Hermes product in the server flash cache area.
A layer up the storage stack there are networked all-flash arrays, and suppliers include GreenBytes, Kaminario, Nimbus, Pure Storage, SolidFire, TMS, Violin Memory and Whiptail. There are also flash-using NAS accelerators like Avere and CacheIQ.
Some of these suppliers use SSDs as their components; others, like Violin, use flash chips on special cards.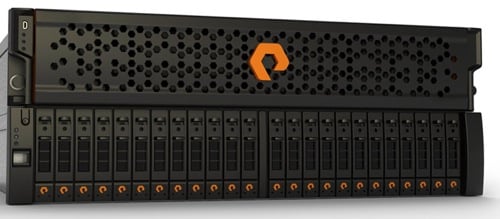 Pure Storage all-flash array
Samsung used to make disk drives but sold that business to Seagate. Toshiba makes disk drives and recently gained scale, buying Fujitsu's HDD operation and buying some Western Digital 3.5-inch manufacturing capacity when that company acquired Hitachi Global Storage Technologies. Toshiba has a foundry output sharing arrangement with flash drive supplier SanDisk. SanDisk recently bought a flash controller company called Pliant. In general, flash controller companies are being acquired by flash drive manufacturers.
Main disk and flash industry moves
There have been several acquisitions over recent years as the flash industry has developed. Here are the main events:-
Flash fab investments
- Samsung has bought into the server flash card industry leader Fusion-io
- Toshiba has bought into one of the flash array leaders, Violin Memory
- Hynix has bought consumer flash controller supplier Link A Media Devices (LAMD)
HDD supplier flash deals - Seagate and Samsung have a flash chip supply and controller partnership
- Western Digital bought niche embedded flash drive supplier SiliconSystems
Flash controller acquisitions
- Seagate has bought flash controller start-up DensBits
- SanDisk bought controller start-up Pliant
- LSI bought controller supplier SandForce
- OCZ bought controller supplier Indilinx
- Apple bought controller startup Anobit
Flash caching SW acquisitions
- Dell buys RNA Networks
- SanDisk buys FlashSoft for server caching SW
- Fusion-io buys IO Turbine server caching SW
- OCZ buys SANRAD for its server caching SW
- TMS deal with Nevex to use its caching SW
Sponsored: Are DLP and DTP still an issue?