Metronome Technologie Kalista Reference CD Transport

A mesmerising example of hi-fi chutzpah from France, this transport-only iteration of the esoteric Kalista CD player, is quite possibly the most gloriously over-engineered object in the world. The casing is hewn from solid aluminium and supported by isolating acrylic 'glass' and stainless steel.
The pickup is a Philips CDM12 PRO 2 with copious custom modifications, used with a weapons grade Perspex clamp. The whole shebang sits upon a 40mm thick perpex 'Silent Base,' drinking from a separate bespoke mains-cleaning power supply. Love at first sight? I think so. And it gets better.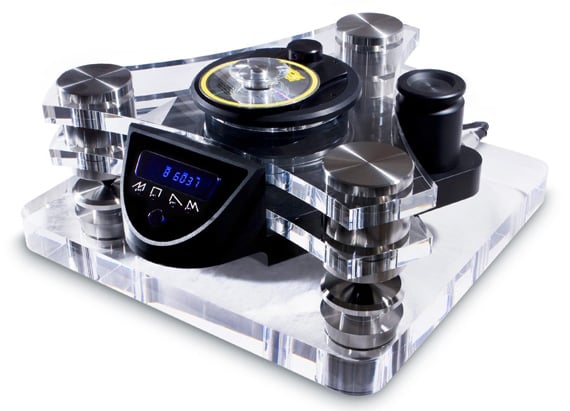 Spinning CDs are bathed in azure light, ostensibly to improve laser reading accuracy. All up, it's the veritable definition of wicked cool. The Reference is delivered in a flight case which can also double as the system support, although I fully intend to sit it on a throne made from fossilised dinosaur bone.

C2-A Signature DAC: and then all goes back to analogue again
Coupled to my Kalista Reference is Metronome Technologie's two-piece DAC, the C2-A. The first box contains dual 24 bit/192khz converters, associated electronics and inputs, plus a tube output stage, while the second houses the power supply. This isn't just any old power brick of course; it features seven transformers to combat electromagnetic and radio frequency interference.
Paris Rating 110%
Price CD Transport £37,000, C2A DAC £18,500
More info Metronome Technologie
Sonus Faber Aida

There's no shortage of high performance, ultra-expensive loudspeakers around. If you really want to splash the cash, then a £200,000 pair of Alexandria XLFs from Wilson Audio takes some beating. They are rather huge though, and a tad vulgar. Alternatively, you could spring for Bowers & Wilkins' Nautilus flagship, or a pair of 800 Series Diamonds. Both though are a little too obvious. My preference is decidedly more eclectic: the £79,000 per pair Aida from Sonus Faber.
No one does statement speakers better than this Italian super-brand. Combining jaw-dropping design with exemplary performance, the marque is to high-end loudspeakers what Maserati and Ferrari are to luxury cars. The Aida – named with a nod to Verdi – is available in walnut, white or red, and both finish and build quality are sensational.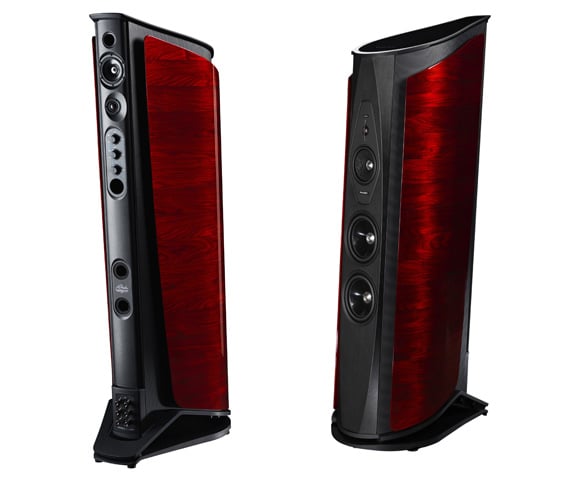 Each floorstander boasts seven drive units; five forward facing, two directed to the rear. A ZVT (Zero Vibration Transmission) suspension system decouples the drivers from the cabinet floor thereby eliminating resonance. The two rear-facing cones can also be separately tailored to the speaker's physical location in a room.
Sonus Faber calls this Sound Field Shaping. The end result is a soundstage as expansive as it is expensive. All that remains now is for someone to put this system together for real. It's not too over the top – you'll have change from £300,000, after all – and I have some extremely dodgy music I'd like to listen to… ®
Paris Rating 95%
Price £75,000
More info Sonus Faber
COMMENTS
The MS1-3D rips CDs as 320kb MP3s
Whats the bloody point then? Spending Bob Diamond levels of money of amps, speakers etc if you're going to be listening to you tunes in mp3 format! Especially when you have terrabytes of storage! jeeze!
Bonkers? oh yes.
Best laugh of the day - well done.
The bit that said "bathed in azure light, ostensibly to improve laser reading accuracy" had me in stitches.
@JeffyPooh
I'm with you!
Next thing you know these fools will be spending £500 on all gold passivated, oxygen free, triple shielded zero crosstalk HDMI cables because they can SEE the difference in the picture on their tv compared to a normal £25 cable.
A respectable round up of kit but surely for the best aural experience you should dip all the audiophiles in liquid nitrogen? In my experience it improves their noise floor immeasurably by shutting them up completely.
Re: Cables
I've just replaced the cable on my USB mouse with 100% oxygen free gold plated super duper £6,000 speaker cable and I swear my mouse pointer is way more accurate than ever!