Smartphone-wielding Obamaniacs trounce Romney in poll
If only iPhone and Android users could vote, November 6 would be a rout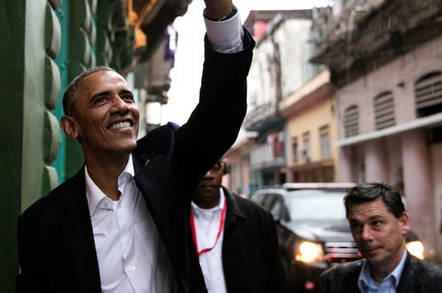 With the US presidential election less than four months away, it's high time for the opening of the Silly Season™ of polls and surveys – such as the one released by Velti, a mobile marketing and advertising firm, which claims that if only iPhone and Android-device owners could vote, Barack Obama would trounce Mitt Romney in a landslide.
Conducted for Velti by research firm Harris Interactive, the online survey asked 2,164 adults ages 18 and older, "If the presidential election were held today, who would you vote for?" In addition to basic demographic information, the respondents were also asked if they owned an iPhone or Android device – 776 of them indicated that they did.
The takeaway from the survey, Velti notes, was that 49 per cent of the iPhone and Android-device owners would vote for incumbent Obama, while only 31 per cent said they would vote for challenger Romney.
By contrast, the relatively unbiased info-aggregators at Real Clear Politics' average of major national polls this Tuesday had the race considerably tighter, with Obama squeaking past Romney 46.4 per cent to 44.7 per cent. Only two polls among those aggregated by RCP – the right-leaning Washington Times and Rasmussen Tracking – had Romney ahead.
Velti, as we said, is a mobile marketing and advertising firm, and as such they clearly have only one dog in this fight: ad sales.
"The results of this survey demonstrate that the smartphone market is becoming a whole new demographic that candidates must take into consideration when building a comprehensive campaign strategy," said Velti marketeer Krishna Subramanian when announcing the survey results.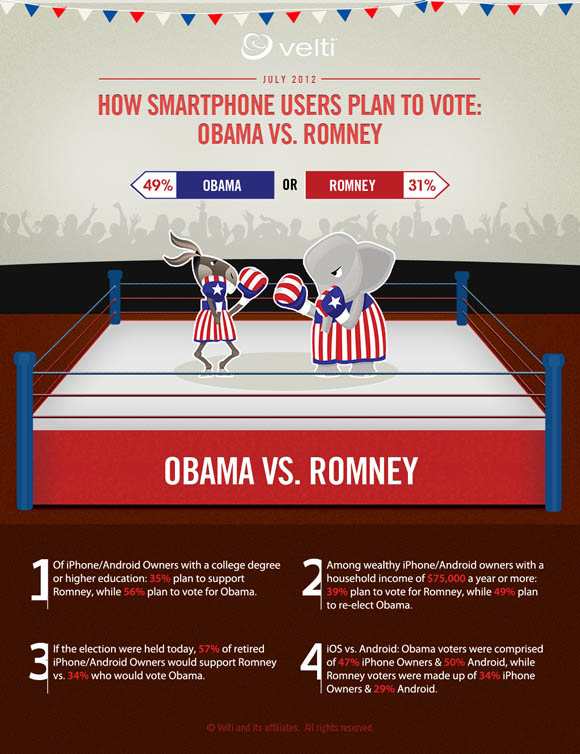 What's dodgier than statistics? Yup: political polls and surveys (source: Velti; click to enlarge)
"Clearly," Subramanian surmised, "mobile advertising is emerging as an influential medium and a distinct audience. We are just beginning to see a more strategic use of this platform, such as Mitt Romney's [Apple] iAdcampaign, and believe that others will follow suit."
In addition to the conclusion that smart phone owners are Obama voters, Velti sprinkled a number of other fun facts into its survey report:
Among iPhone and Android-device owners with a college degree or higher, Obama's lead grows to 56 per cent to Romney's 35.
Among those smartphone owners who make over $75,000 per year, Obama's lead is smaller but still substantial: 49 per cent to 39.
A full 54 per cent of male smartphone owners between the ages of 18 to 34 said they would vote for Obama, but among males aged 35 to 44, that support dropped to 32 per cent.
Young female smartphone owners aged 18 to 34 are firmly in the Obama camp, with 60 per cent saying they would vote for the incumbent. Among women 45 and older, POTUS's support dropped to 39 per cent.
Perhaps unsurprisingly, Romney did capture one demographic: 57 per cent of retired iPhone and Android-device owners said they were in the Romney camp, a solid smackdown of Obama's 34 per cent.
If you're curious about what proportion of each candidate's support came from iPhone owners and what came from Android-device owners, The Reg was as well – and we were surprised to find that Android-device owners led the Obama pack with 50 per cent support versus iPhone's 47 per cent support, and that among prospective Romney voters, the iPhone led at 34 per cent versus Android's 29 per cent.
Of course these results are far less – far less – than ironclad, but if you're a political junkie like your humble Reg reporter, no tea leaf is uninteresting, however ephemeral.
But as with all political surveys, "Consider the source" – whether that source be the Washington Times or The New York Times – is always the best advice.
And Velti's Subramanian made it clear what his company's interest in the survey is when he said, "The survey results reveal that greater intelligence in understanding the behavior of this emerging [smartphone-owning] demographic can be a critical differentiator in brand awareness and consumer behavior across any number of markets and applications."
Not to mention that some estimates put campaign spending for all candidates during this election cycle at around $8bn – and you can't fault Subramanian for wanting his piece of the political pecuniary pie, can you?
After all, what's America all about, anyway? ®
Sponsored: Minds Mastering Machines - Call for papers now open