Schools IT biz RM back in black after caning from UK gov
Mega-cuts taught supplier a lesson it won't forget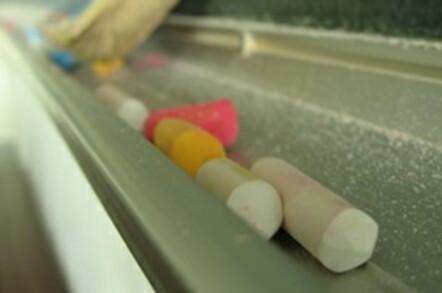 RM is back in the black following the recent cost-cutting activity that saw it offload multiple business units and axe 17 per cent of its workforce.
The education IT supplier made profit before tax of £600,000 in the six months to 31 March compared to a loss of £1.4m in the same first half year period a year earlier.
Turnover from retained operations edged up 3.7 per cent to £122m – after benefiting from the Building Schools for the Future (BSF) programme – but total revenues including those from exited units was £124.7m, down from £133m.
The completed disposal programme included the sale of ISIS Concepts, AMI Education Solutions, Dacto, Computrac and RM's stake in LEGO Education, all of which netted £6.1m in cash.
RM is also some 467 heads lighter than before the overhaul began.
The Education Technology Division was at the sharp end of "public sector budgetary constraints" in H1 fiscal 2012 as sales fell 3.6 per cent to £49.3m. Tech and implementation services dipped but network and internet hosting was flat.
The unit did return to adjusted operating profit of £900,000 and though the "competitive environment remains challenging", RM claims to have bagged 25-30 per cent of new Academies and Free Schools contracts.
The Managed Services arm reported sales of £29.9m, up 35 per cent but saw operating profit fall from £3m to £1m, which RM said reflected the "strong performance" a year earlier. It said the top line growth mirrored the increased BSF activity.
The Education Resources unit now comprises TTS (distribution of curriculum products and materials to schools) and RM SpaceKraft (supplies and installation services for special needs children). Sales grew 1.6 per cent to £28.6m.
Sales at the Education Software unit fell 10.9 per cent to £15.9m, Assessment (e-marking and e-testing) grew by a fifth, but School Management Systems fell by 8 per cent and Learning Software revenues sunk 50 per cent.
RM said there is a trend away from large, integrated applications which are costly to deploy and maintain.
Nevertheless, the supplier will launch RM Unify from 2013, a cloud-based platform providing a 'launchpad' and secure single sign-on to a number of applications.
It will also unveil RM Books, cloud-based electronic texts.
RM said fiscal 2012 will be the "most significant" for BSF after which revenues are forecast to decline as the programme is phased out.
"Furthermore, the education sector remains challenging with continued budgetary pressure and uncertainty due to government policy changes (including School Funding Reform andy Curriculum and Examination changes)," it said.
This should serve to test the mettle of the new initiatives RM is pushing into the market as well as indicating whether the cost-cutting restructure the firm embarked upon from September last year went far enough. ®
Sponsored: Minds Mastering Machines - Call for papers now open