Ghost In the Shell: Stand Alone Complex: Solid State Society on Blu-ray
Section 9 regroups for one more case
Where the action is...
Visually, the OVA is rich in detailed 3D mecha and depth-of-field effect backgrounds, with (I believe deliberately) flat-looking animated characters in the foreground. It's a jarring style that keeps you concentrating on what's happening rather than getting obsessed with how clever it all is and trying to trace the nipples on 3D women à la Avatar.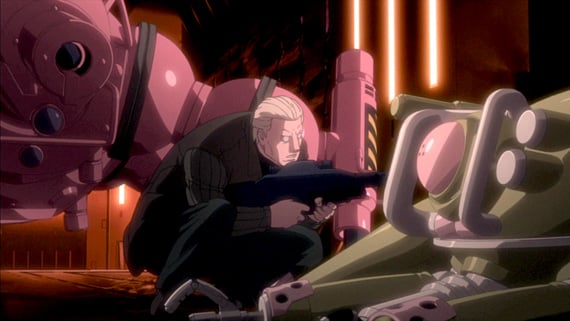 Batou is back, surrounded by heavy metal mecha as usual
What it lacks, however, is action. Apart from a bit of running around at the beginning, a mecha-run-amok scene early on and the thrilling break-in sequence at the end, most of the film involves people standing around talking to each other in corridors, walking in and out of rooms and staring at computer screens.
Although it's not quite like that notorious episode of the GITS:SAC TV series in which virtually the entire 30 minutes comprises internet nerds arguing around a table, Solid State Society could have done with more action set-pieces, however contrived.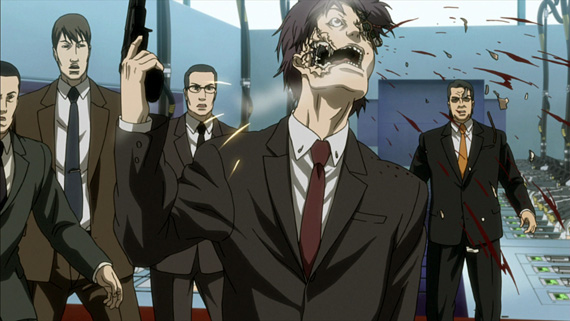 Tense, nervous headache? Try a course of Solpa... oh
Another warning: if you have not watched at least a few of the GITS:SAC episodes, preferably from the second series (2nd Gig), you probably won't have a clue what's going on in this film.
The big question for dedicated fans, though, is whether it's worth buying this frankly expensive Blu-ray release if you already own the DVD from 2007. Manga justifies the price by bundling DVD (movie only - no extras) and Blu-ray discs in one box, but why? I'd rather it had bundled a digital copy I could put legally on my phone or tablet.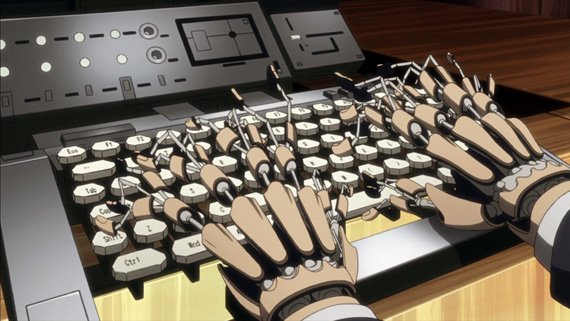 Why re-invent the keyboard when you can get your hands replaced instead?
Unlike the 2009 Blu-ray releases of the first two GITS films, both of which enjoyed 'Redux'-edition cleaned-up audio and video plus additional CG-generated scenes, Solid State Society on Blu-ray is exactly the same as it was on DVD but at hi-def. This means you can see individual raindrops fall during the opening sequence, but after that, I can't remember a single scene that Blu-ray made look better.