More of the same?
The soundtrack is extremely well produced and the music is pretty good, if a little lost behind the talking and occasional gunfire, but this is the same as on the DVD that came before it. Even a bundled OST audio CD might have been nice to have, but there you go.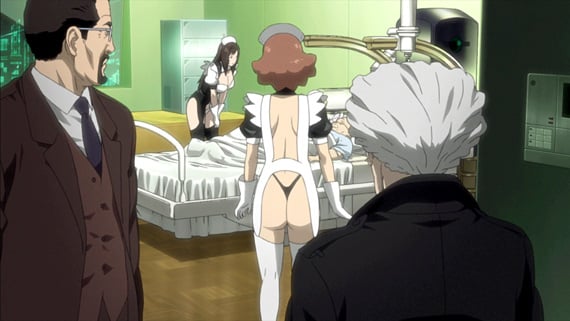 Another example of that private health insurance. Where do I sign?
The Blu-ray extras are also the same as those on the earlier DVD release: a making-of documentary, a piece about the mini Tachikoma robot built for the launch party, a piece about the Nissan-designed concept cars seen in the film, a short Uchikomatic Days animation (GITS:SAC fans will understand the joke), interviews with the production teams in Japan and the US, and trailers. None of the video documentary stuff appears to be in native hi-def.
Verdict
If you already have Solid State Society on DVD, don't buy the Blu-ray release: there's nothing to be gained. However, if you don't, you may find the five-year-old DVD harder to source than expected. If the alternative means paying £20 or more for an import copy or wasting a fiver on a scratched, second-hand pirate disc from eBay, the brand new Blu-ray release doesn't seem quite such poor value after all. And if you're any kind of GITS:SAC fan, you will like Solid State Society very much indeed. ®
More Blu-ray Movie Reviews…

The Beatles
Yellow Submarine
Blu-ray disc set
Monty Python
and the Holy Grail
Blu-ray disc set
Aliens
Blu-ray disc set
Akira remastered
Blu-ray disc set
Star Wars:
The Complete Saga
Blu-ray disc set

Ghost In the Shell: Stand Alone Complex: Solid State Society
A fine sci-fi anime thriller OVA on Blu-ray but with no additional content to the now scarce DVD.
COMMENTS
Re: I found this film a bit disappointing, though ultimatly enjoyable.
I do so wish you could edit posts. Trajic?? Tragic, as is my spelling!
Re: Cheap, messy, inept cover
I went through a phase of choosing what to watch based solely on the box covers too.
Then I turned ten.
Nissan plagiarize?
Couldn't help noticing the concepts specially designed by Nissan bear a striking resemblance to a Ferrari F430 (on the left) and a Ford GT.
Never got around to watching Solid-State-Society.
Utterly loved all the rest of the GITS stuff though, including the stunning musical backdrop to the weird and wonderful scenes.
For those that find it impenetrable, well I always enjoyed it with a jazz-cigarette. It doesn't help, but you don't mind so much.
Re: Forgot about the music!
Thanks for writing that! I wanted to talk about the soundtrack but had to cut my review to fit! Yoko Kanno is among my favourite composers too. Not all of it is accessible but it is always surprising. I think it was Macross Plus that sold me on her music.