LSI lures IT vendors with Nytro blast for flash storage
Mega EMC deal not enough... we want more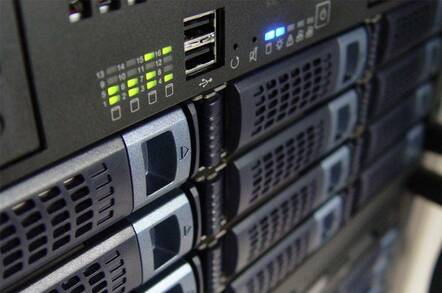 LSI appears to be making a determined push into flash storage. But is this a smart business move by a company that flitted about somewhat when it came to flogging various storage technologies?
LSI is very successful with controller silicon for disk drives and SAS interfaces and much more technology at that level. After Abhi Talwalkar replaced founder Wilf Corrigan as CEO and president in May 2005, LSI embarked on a string of mergers and acquisitions to get new technology as it tried to move up the value chain by offering disk drive arrays, SAN virtualisation software and, after that, SSDs.
It has had to persistently ask the question: should it be in chips, storage drives, arrays and software or just one or two of these businesses?
LSI had a determined run at the disk drive array business, which put it in competition with some of its disk drive array-producing customers. It bought Infineon's disk drive business and clustering supplier ONStor, rolling them into its Engenio storage array division, as well as StoreAge, an Israeli start-up with SAN Virtualisation Management (SVM) software.
In the event both the Engenio disk drive array business and the SVM technology proved to be dead ends, with Engenio being sold to NetApp, now and then run by Tom Georgens, the ex-head of the Engenio division at LSI, and SVM simply closed down.
From 2008 onwards, LSI parlayed its disk controller and SAS smarts into producing solid state drive (SSD) controller silicon – which it supplies to Seagate. It has also developed its own WarpDrive SSD, now branded Nytro WarpDrive, and has won a supply contract with EMC. Let's have a quick review of its storage history.
LSI Storage Timeline
May 2005 – Abhi Talwalkar quits Intel to become LSI president and CEO replacing president, CEO and founder Wilfred Corrigan. Engenio storage division IPO stopped.
2006 - LSI buys StorageAge and its SAN Virtualisation Manager (SVM) technology for $55m.
December 2006 - LSI Merges with Agere.
March 2008 - LSI buys Infineon disk drive business.
October 2008 - Seagate picks LSI to supply controller silicon for its coming SSDs.
July 2009 - LSI buys struggling clustered filer supplier ONStor and puts it in Engenio storage division.
March 2010 LSI PCIe flash card introduced with 6 Seagate Pulsar SSDs on board and SandForce flash processors.
June 2010 - HP OEMs SVM – the only OEM to do so.
January 2011 - LSI closes down SVM product line.
March 2011 - NetApp buys LSI's Engenio disk array storage division for $480m.
October 2011 - LSI buys SandForce and its popular flash controller product line for $322m.
January 2012 - EMC takes LSI's WarpDrive PCIe flash drive for its VFCache product, alongside Micron, said to be the primary supplier.
April 2012 - LSI's Nytro flash brand introduced including MegaRAID CacheCade caching software.
LSI and flash
LSI has decided it is firmly in the PCIe solid state drive business, competing with Micron, Fusion-io, OCZ, STEC, TMS, Virident and other PCIe flash card suppliers. In May it announced it was working with EMC and Cisco to get VFCache, using LSI's Nytro WarpDrive, integrated with Cisco's UCS B-Series blade servers "to further accelerate application performance and improve response time for Cisco servers in EMC storage environments." Cisco UCS B-Series Blade Servers are expected to be available with custom form factor Nytro WarpDrive mezzanine cards beginning in the second half of 2012.
This is interesting as competitor Fusion-io announced in June it was working with Cisco as an OEM to get its ioDrive 2 PCIe flash cards integrated with the very same B-Series servers.
Tony Afshary, an LSI director of technology and product marketing, was keen to put LSI's relationship with Cisco on the same footing: "Our arrangement with Cisco is an 'OEM' deal," he confirmed. "[We're] building a custom Warpdrive for Cisco's Blade, on track for 2012 (mid Q3) deliverables, already delivering samples [and] have a Cisco part number."
He said the project is moving forward quickly and "Cisco has already placed proto orders with us ... We are also already an OEM provider of storage gear at Cisco with our SAS and MegaRAID cards, so Nytro WarpDrive will be in addition to those products."
Regarding the WarpDrive SSD line, Afshary said said LSI has 2-bit multi-level cell cards running up to 2TB in the half height form factor and 4TB with full height cards plus faster single level cell (SLC) product. He added: "We are working on (3-bit) TLC cards and on different kinds of technology," suggesting LSI is looking at post-flash technology such as Phase-Change Memory. He reminded us that LSI has sold 30 million MegaRAID cards and customers with these cards represent a sales opportunity for the flash product line.
A Nytro MegaRAID for DAS card combines caching software that detects hot blocks on direct-attached storage and moves it into WarpDrive flash mounted on the card. Afshary said this can result in a 30X acceleration of an Oracle TPCC workload. Every server OEM already has MegaRAID experience so, by implication, an upgrade to the Nytro MegaRAID product should be no big deal.
Server flash developments
Concerning EMC's VFCache product, Afshary said LSI was ahead of Micron, and asked: "Does it have an MLC PCIE flash card yet?"
Afshary asserted that Micron is the second supplier, rather than LSI. He couldn't comment on whether or not EMC would use LSI flash in its networked Thunder flash storage array.
We asked him about storage memory, the use of flash as a secondary tier of memory. He responded: "We are involved. But how is the market going to adopt it? The block storage and driver model/OS stack will improve with flash. A massive number of applications will need re-writing to take advantage of storage-class memory … We're talking 99 per cent of the market."
LSI is going great guns with SandForce. Corsair is the most recent customer to announce the use SandForce processors in its Force Series GS SSDs. Afshary claimed: "We're the number one supplier of drive components in SSDs. LSI will fare well in any storage market because we are so modular."
The roster of PCIe flash card suppliers includes Intel, LSI, Micron, OCZ, OWC, SanDisk, STEC, SuperTalent, TMS and Virident. It is probable that caching software will have to take account of networked storage as well as server DAS, have to cover write and read caching, and extend to cover a group of servers. In that case we, effectively, have a shared PCIe flash card facility and that may conflict with networked flash arrays such as those from Nimbus, Pure Storage and Violin Memory. These are not caches but separate tiers of storage with their own software.
Next flash steps for LSI
Will LSI move up into this space? That would start to replicate the Engenio disk drive array business in flash and might be a step too far, forcing it to re-ask the drives versus arrays question. It's reasonable to assume that LSI is working on developing its SandForce controller technology to drive MLC flash further and faster, and to embrace cheaper but shorter-lived TLC flash. It's also fairly certain that the caching software will be extended.
LSI must be looking for other tier-one storage and system vendor customers to build on EMC – which would be a big, big win. It might, given its recent acquisition history, consider buying more flash-related technology but that is sheer speculation on our part. There are at least 10 PCIE flash card suppliers active today. In five years' time there will probably be fewer than that because a game of flash musical chairs will be taking place. LSI wants to be one of the survivors and aims to build on its 30 million MegaRAID card unit sales to do so.
El Reg wouldn't call LSI a "visionary" supplier but we would say it can execute extremely well. If it blows past Micron with EMC, as it seems to be doing, then who knows where it might go. ®
Sponsored: Minds Mastering Machines - Call for papers now open