Taking charge
Size and weight has also been reduced by the use of a fixed but rather anaemic 1150mAh battery. With so little juice available, this is a handset you will be charging at least once a day, without fail. To give you a more reliable idea of battery life, looping a 720p MP4 video drained it in 3hrs 35mins.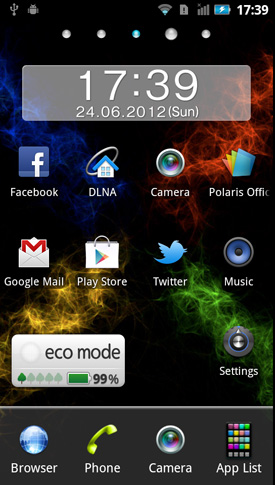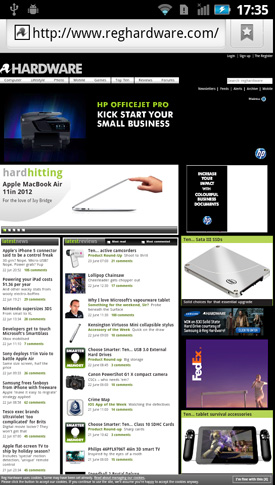 Launcher and browser
Waterproofing aside, the Eluga is quite the minimalist looker due, in no small part, to a screen that takes up an unusually high 66 per cent of the frontal area and some very bright white LEDs beneath the three capacitive system buttons. The 4.3in 540 x 960 256dpi OLED screen adds to the sense of occasion by being crisp, colourful, bright and working well in direct sunlight.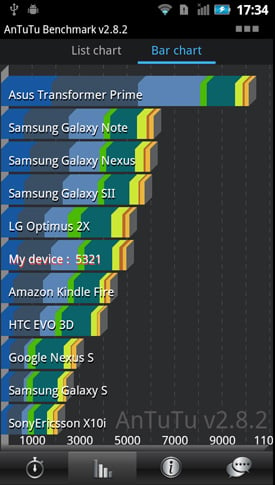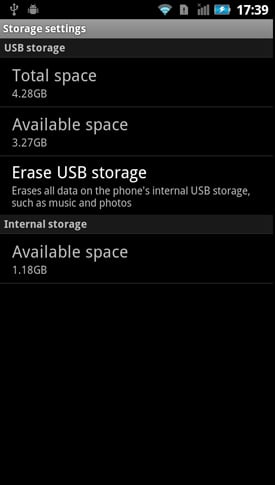 AnTuTu score and storage capacity – how much?
Doing the heavy lifting is the same TI OMAP 4430 chipset you'll find in Motorola's Xoom 2 tablet with the same 1GB of RAM. In the Eluga though the dual-core CPU has been throttled back from 1.2 to 1GHz. Subjected to the tender mercies of the AnTuTu benchmarking app, the Eluga returned a score of 5,300, which is par for a 1GHz dual-core chip. At the time of writing the Eluga runs Gingerbread but an Ice Cream Sandwich update is imminent.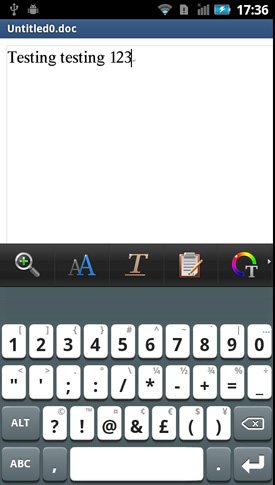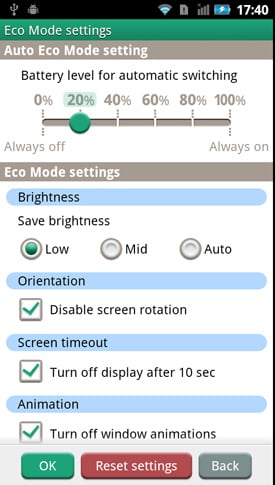 Polaris and Flext9, a good combo and Eco mode - you'll need this
Panasonic's launcher – called Fit Home – is wholly unexciting and a bit of a mess but the ICS update may fix that. And even if doesn't, there are plenty of good launchers in the Play Store or you can simply default back to stock Gingerbread.
The camera is also a bit of a disappointment. To start with there is just the main shooter – no front facing addition – and it doesn't have a flash. Despite being an 8Mp sensor, the results are flat and insipid compared to what you get from a Nokia Lumia 800. Video can only be recorded at a maximum of 720p and, again, the end result is less than tremendous.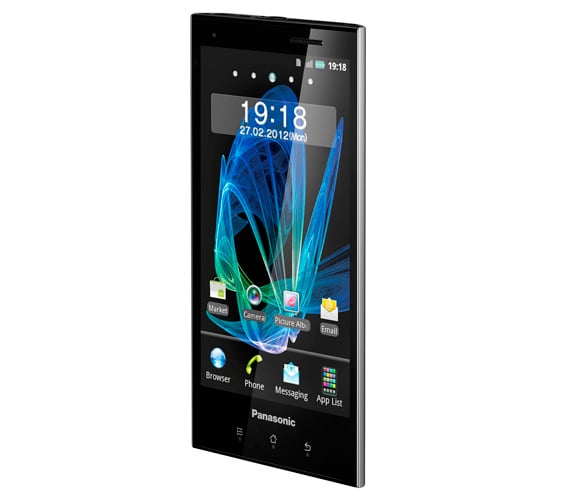 Waterproof, but the battery life and storage capacity may dampen enthusiasm
Anything else you need to know? Well, the Eluga has an NFC radio and the speaker is very quiet, no doubt a result of being shrunk to fit the skinny profile and sealed in to keep water out. There's also very little software bloat but you do get the excellent Nuance Flext9 keyboard and Polaris Office.
At the moment, the Eluga is only available SIM-free for £310. I hope it finds its way onto contract schemes because, despite its manifest imperfections, I can see this stylish, thin, light and waterproof handset appealing to quite a few folk out there.
Verdict
In the minus column, the battery life is poor, the camera lacklustre and there's far too little storage on-board. But on the plus side, the Eluga is stylish, slim, light, waterproof and has a big, bright screen. ®
Thanks to Expansys for the loan of the review handset.
More Android Smartphone Reviews

Samsung
Galaxy S III
Sony
Xperia P NXT
Orange
San Diego
Ten... Androids
for under 200 quid
Huawei
Ascend G300

Panasonic Eluga DL1 waterproof Android
A thin, light and waterproof Android smartphone.
COMMENTS
Why is battery life not a desirable feature anymore?
I rather like having a phone that can be used for literally more than one day without needing a full recharge. Surely I'm not alone in this? Cos it seems like there are precious few manufacturers pandering to my unreasonable market segment.
Re: Why is battery life not a desirable feature anymore?
In a word, Apple. Like a lot of things they do with their flashy advertising they push how thin something is like that's a feature. Sadly this leads to other manufacturers following suit and they all get stuck on this endless fashion of producing thin phones where you can do so much but doing so will kill your battery in less than a day. I know for a fact that at least HTC view this as a market trend so it's safe to assume others do too. Software optimisations can only take you so far and with higher resolution screens, multi-core CPUs and other tech. inside batteries just haven't improved as much as the rest in order to keep up.
I own an HTC One X and the battery at 1800mAh is an improvement over my Desire HD's pathetic 1230mAh but it's software tweaks (some annoying ones) that apparently help battery more than increasing the size. I'd prefer to see a combination of battery and performance tweaks because if you just keep increasing the battery you'll end up where we do with Windows requirements - they just go up and up for the same performance as last year.
One of the power saving tweaks that bothers me most is also not something you can change using the default Sense skin. When it goes past midnight all data connections are disabled until around 8am. In fairness when I wake the phone up and unlock it the data connection is usually enabled before I can launch any apps but it also means any notifications are missed. I happen to be awake a lot past midnight and I could see it being a problem for others. Some manufacturers seem to be realising that people who own a smartphone would like to be able to use it and the RAZR MAXX was the first but hopefully not the last. After all, what's the point in owning a phone that can do so much if you have to disable everything to make it last a day?
Re: What about the toilet?
You are either going to drop it down before you sit, or after you do, therefore the first retrieval would be water based.
The second would depend on the consistency, sitting on top of a log, no problem. Watching it submerge after a curry, that would take bravery.
Re: Just popping out to perform some field tests for the review.
Late breakfast.
Re: Why is battery life not a desirable feature anymore?
It's not about being a "fanboi" I think the original poster was trying to get accross the fact that FOR HIM the iPhone battery is more than adequate.
You do make your buying decisions based on whats right for YOUR needs don't you? I mean you wouldnt just buy an Apple iPhone or a <make>Android just because it looks nice?
I like El Reg but the absolute hatred of one camp or another is beginning to get to me know, it used to be Winblo$e vs Linux now its all Crapple vs Fandroids and it's getting a bit old
Come on people, the phone you get is the one YOU decided on, doesnt mean it's any better or worse than any other per se, just that one make / model might not meet YOUR requirements.
Personally, took my iPhone 4 on a 2 day safari round the Sahara, used my camera, 3G and email (Very) occasionally and didnt need to charge it once, now if that makes me Steve Jobs Jr then so be it.
Wouldnt it be nice if we could all just get along :-)