Review: Samsung Chromebox
Terminal decisions
Clouded vision
So is the Samsung Chromebox really like any other PC? Well, it can be if you fancy running Linux on it. Ubuntu will instal if you set up the Chromebox in developer mode by flicking the switch buried inside the Kensington lock hole. Incidentally, it's marked as the "Newton" switch on the motherboard.
However, this approach isn't really what the Chromebox is about, although given its six USB ports, you could easily assume it is designed to work with everyday devices. An optical drive – yes, but for home grown data retrieval only. I even plumbed in a LaCie USB floppy drive and that worked – although the same problem of data being moved, rather than copied, occurred here too. Moreover, Samsung's original Galaxy Tab only showed the internal USB storage, but the 8GB micro SD card – that shows up on a Mac or PC – was ignored.
The list goes on, but can you really blame Samsung for the shortcomings of the Chromebox? Sure it's a different way of computing, and having a virus-free up-to-date OS has its appeal, but it's also a rather flaky OS and that's not really Samsung's fault at all. If anything, it suggests that offering a terminal-style computer brings with it the temptation to deliver an unfinished product. And rather than this being an app or two that users could decline to instal, it's the whole kit and caboodle.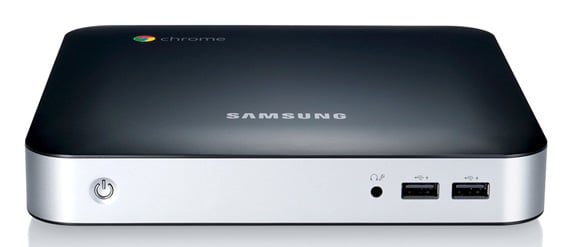 Attractive hardware but Chrome OS is a mindset that won't appeal to everyone
Verdict
So, moan, moan, moan? Well, I guess so but that's resistance for you. Google Chrome OS takes you out of your comfort zone and the grumbling starts because you have to learn to do things differently. Beyond Google's own compulsive yearnings to fondle every modicum of data you produce, Chrome OS has integration with other devices for data sharing at its heart, but alas, not by simply plugging them in.
The trouble is, it doesn't integrate with user expectations particularly well, no matter how many USB ports Samsung can add to its Chromebox. As far as the hardware goes, it works, but to really drive users to consider Chrome OS as an alternative, we need to see some really attractive pricing. After all, regardless of what Google's OS may offer users, it also demands that they make sacrifices and, given the established alternatives at similar prices, who on earth feels the need to do that? ®
Sponsored: Minds Mastering Machines - Call for papers now open

Review: Samsung Chromebox
Desktop incarnation of Google's terminal PC project.