Review: Samsung Chromebox
Terminal decisions
Do you copy?
Dragging screen grabs out of the Downloads folder and into USB drive, reported that it was 'pasting' these files. However, much to my surprise, it completely cleared out the Downloads folder, effectively moving all of its selected contents. Mmm, not the sort of behaviour one expects from a drag and drop to an external device...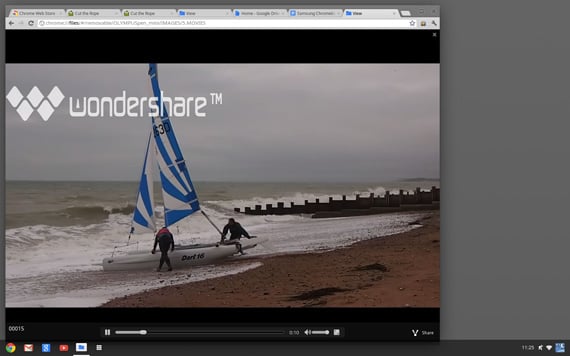 QuickTime .mov files from cameras play, but with an unsubtle ident for company
Back on Chromebook Central, there are moans that there's no DVD support, something I'd presumed might function more out of good manners than anything else. The truth is, you can't play a studio DVD movie release – it doesn't even show up as a disc. However, you can plumb in a DVD burnt for data storage and grab files from it. It'll even play any of your own movie files from the disc. And while not officially supported, QuickTime .mov files played too, though with the Wondershare watermark emblazoned on the screen. I tried a .mov upload to Picasa but that failed, however images sent direct from the DVD worked fine.
Now, Cloud Print. I can see the office networked printer from where I'm sitting, but the Chromebox can't see it at all. It needs me to run the Chrome browser on my Mac, log in to Google and then locate the printers on the network that I can then make available for sharing to the Chromebox. The alternative is a Cloud Print ready printer – they are out there, but not here. Another option is to have a USB printer connected directly to a Mac or PC and share it that way. Alun 'Android' Taylor tells me this works fine for him.

A sign of progress: 20 minutes later and still nothing had changed and nothing did change – delete job
It's tempting to detail every bend in the road in my Cloud Print experience, but it's not going to be thrilling reading. In short, it printed twice and not the single page I'd configured in the settings but the whole screed.
Following an afternoon of log-in screens popping up, PDF creation and printers going offline from the Cloud Print listing, I realised there was probably going to be no end to this due to one single word: beta. Cloud Print is a beta product and it doesn't seem there yet – at least, not for networked printers.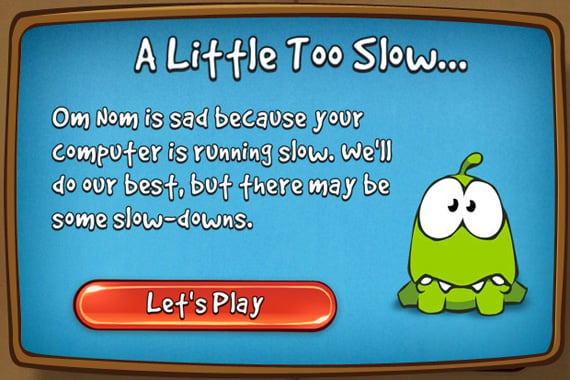 So much for gaming – perhaps you're better off playing this on a tablet
I tried a bit of gaming and Cut the Rope reported it was a slow PC – and this is one of Chrome store's featured apps. Go to the Picasa site and it tells you the computer is incompatible. You need to get to it from the Picasa web albums log-in page instead, which wasn't entirely obvious either. The function keys aren't reliable – screen dimming never worked – it either does nothing or kills the brightness completely, so you have to use the display controls to brighten it again.