Big media little iPad stories suggest Apple is cranking up the spin cycle
Officially sanctioned leaks?
The latest 'iPad Mini' rumours don't tell us anything more about the putative device than we knew already - what's telling is where the rumours are being reported.
Step forward news agency Bloomberg and newspaper The Wall Street Journal. Both covered the 7.85in tablet this week, both citing the inevitable, unnamed "people familiar with the situation".
If Apple is indeed preparing to launch a smaller iPad in the autumn, it'll not only start production round about now, but it'll begin its PR offensive too. While the company is clearly not going to acknowledge the unannounced product, it will begin spinning the notion of one, as much to help discourage its rumour-eager and gadget-hungry audience from giving up on the wait and jumping ship to rival offerings.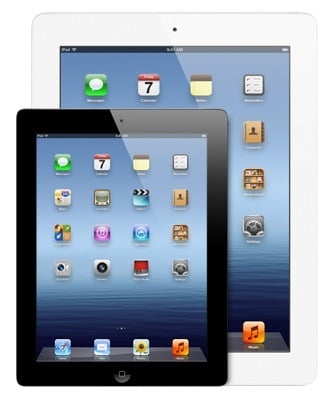 Rival offerings there are: Amazon's Kindle Fire, though that appears to be smouldering now rather than richly ablaze. But the Google Nexus 7 is another matter, generating lots of headlines and some very positive reviews.
Time, then, to start seeding some FUD, a standard weapon in the PR's arsenal. The people "familiar with the situation" then are, we'd be willing to be, quasi-official, authorised to tip the wink to two big news organisations that Apple has always courted.
If Apple is making a few covert leaks, the take-away is clear: the 'iPad Mini' is coming, and it's not so very far away. ®
COMMENTS
And how exactly is this different from the rumour which goes round every few months? If you're going to report it at least report it with the proper degree of cynicism. This is El Reg after all.
"Officially sanctioned leaks?"
Pope still keen on Catholicism, bears still evacuating their bowls in sylvan groves.
Yawn
Hasn't the iPad mini been mooted every year for the last two years?! You'd think people would get wise and stop talking about it. We've enough vapourware in the tablet space with the Microsoft Surface without the iPad Mini (or should that be iPoad) rumours doing the rounds again.
I'm still waiting for this magical Apple TV that's going to do everything including slicing virtual loaves of bread let alone a tablet that might fit in my pocket if I'm wearing dungarees
It could be the basis of the advertising campaign.
OK, one last time. These are small... but the ones out there are far away. Small... far away... ah forget it!
Re: "Officially sanctioned leaks?"
Indeed-the idea that Apple are secretive is one of the world's greatest myths. They're secretive when they want to be (anyone know when iWork 09's replacement launches? anyone?), but if Apple had announced the iPad without the buildup it wouldn't have had half the buzz it did. People would just have seen the iPhone Big.