YouView launches with pricey premium DVR
No low-cost option. No unique content. No chance?
YouView's long-awaited - no longer eagerly so, perhaps - set-top box will arrive in the shops of Britain's best-known electrical retailers "by the end of the month", but you'll have to pony up £300 for one.
Two years on from its original launch window, the platform, which now combines Freeview over-the-air programming with net-delivered catch-up services from stakeholders the BBC, ITV, Channel Four and 5, will debut in a Humax-made twin-tuner 500GB DVR, the DTR-T1000.
When it comes, YouView Chairman Lord Alan Sugar enthused today, it will mark "a great moment in British television".
Lord Sugar has a way with words, and while it's true that the YouView user experience is indeed a much more straightforward, less cumbersome one that most existing DVRs and smart TVs provide, YouView has some way to go if it's to be the landmark the Apprentice star believes.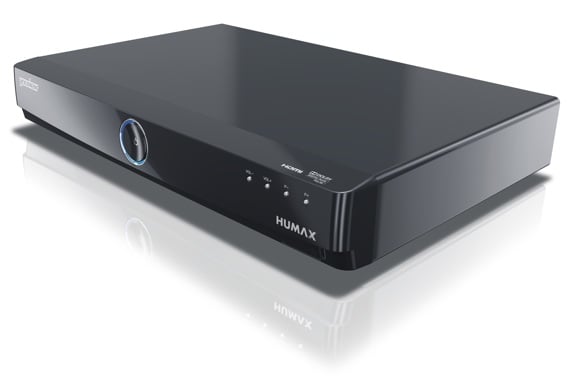 YouView's techies have created an aesthetically pleasing, unobtrusive UI that quietly demarcates IPTV content from broadcast material and doesn't make a big deal out of the difference.
The box's search operates across upcoming Freeview and Freeview HD transmissions and - eventually - what pay-TV partners, initially ISPs TalkTalk and BT, have on their schedules. It already covers what the free-to-air catch-up providers have in their recent and longer-term programme archives.
All this, plus standard Freeview HD+ DVR functionality.
The trouble is, of course, a lot of folk own DVRs already. No problem, says the ebullient Lord Sugar, "this is the box their going to replace their DVRs with".
The hook is the integrated catch-up content, though many a DVR and a smart TV provide less joined-up access to these services already. Not many include all the current major terrestrial broadcasters' on-demand services, however, but the YouView box does.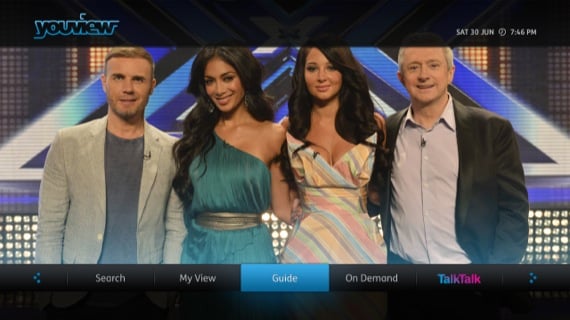 More are coming. Following the Humax box's retail debut, YouView will add STV during the summer, along with a new channel, Now TV, run by Sky - presumably an advertising exercise masquerading as a best-of-Sky offering. We shall see.
TalkTalk and BT will offer their boxes separately, and while BT maintained a stony silence today, TalkTalk said it will reveal its plans for the box, including pricing and subscription packages, at the end of this month.
While neither ISP said as much, but Lord Shug implied they'll subsidise their boxes on the proceeds of broadband and/or content subscriptions, and both will be able to offer their customers content not available to other YouView box owners.
Ditto other providers: select a catch-up or archive programme from the search or EPG panels and YouView runs the appropriate player app, though it goes straight to the show rather than leaving you in the menu, as smart TV, set-top, mobile and PC apps do. Stakeholders' apps are free to offer whatever mix of free and premium content as they wish - YouView's remit ends at the point UI hands over to the content provider's portal.
Content providers can bombard you with ads - like those ITV plays at the start of catch-up content - but, Lord Sugar suggested, YouView won't.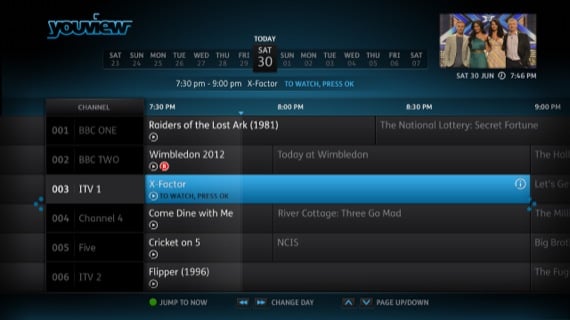 It's all nicely done. The question is simply whether early adopters will be willing to cough up £300 for an experience that's, yes, better than competing products but, no, not unique.
These are tough times for the consumer electronics business. Lord Sugar's justification for the high price is a need to demonstrate the platform's full capabilities and that can only be done with as fully functional a box as can be delivered.
But he held out the prospect that a single-tuner, DVR-less device may come to market in future. That depends on Humax, of course, currently the only YouView hardware licensee - or, at least, the only one the company will discuss. Talk about other potential partners is unsurprisingly nebulous - neither party would ever want to prejudice negotiations, of course - but today's launch lacked even the hints often dropped events like these to encourage journalists to believe that vendors can't wait to sign up.
YouView, then, really is in classic chicken-and-egg territory. Until it shifts boxes, it can't demonstrate demand. Without a sure sign that the public is interested, it'll have a harder job enouraging partners to sign up. But without the partners, it'll be a lot harder to convince punters to cough up.
Which leaves the platform with a heck of a potential - and one of the best UIs out there - but one that it seems a long way from fulfilling. ®
COMMENTS
"two years late, over priced piece of tut"
"no originality, no advanced features"
" If I wanted a friend, I would buy a dog"
"and for that reason your FIRED"
Re: XMBC
Reverse engineering YouView into XMBC will happen. It's just a question of when.
Content
I'm a geek. But I'm an stalwart geek. I bought my first flatscreen TV on Monday. It arrived yesterday. It's Samsung. It's not "Smart". Because, to me, a TV is a viewing device. I choose what to put on it and it displays it. When I'm done, it gets turned off. Hell, I've not even Ethernetted it yet, even to try it out, because I haven't yet done anything that I think would be served by that facility (despite deploying Serviio DLNA servers in work for multiple displays, etc.)
The black boxes situated under or around my TV are things I've bought to specifically add functionality I need and one of them happens to be a laptop. Which does everything that the TV and all the fancy set top boxes can do(and more) - it even does PIP and HD Freeview PVR with Dual Tuners from a £20 dongle, so the actual TV is literally just a display device that happens to have other functionality, in my view. And my laptop has done all this for months/years. I use that sort of functionality once in a blue moon and the desire to put it on the TV is infinitely less again.
About the only other things I have plugged in are a standalone DVD player (because I only own DVD's, and my girlfriend sometimes just wants to watch something on it - which I quite understand as a user interface simplifier) and my Virgin Media box which I've had for years - which also does lots of fancy stuff but, you know what? I can count on one hand the number of times I've watched something on iPlayer through it, or bought things on Pay-Per-View events (and once, it cut halfway through the film I'd bought to watch and it wouldn't come back, so I dug out a DVD instead).
Hell, I had to seriously consider what it meant to only have one SCART socket on my new TV but realised that with the SCART switcher I have, the once-in-a-blue-moon use of a Wii wouldn't cause hassle either (and that does iPlayer too). I was disappointed that I couldn't get VGA-In too but I sacrificed that for price and did so knowingly.
My problem with TV is not availability online, not the technology to do so, not the equipment, cabling, internet access or set-top-box. It's not the number / type of ports or the HD-ness of my TV (incidentally: I'm still holding the opinion that HD is tripe because I now have it - proper 1080p@60 - on a TV standing next to my old CRT and honestly cringe at the new TV's reproduction of 4:3 SD content from the same DVD player over the same cables compared to that old CRT). It's not the scheduling. It's not the ability to timeshift or PVR. These are all problems that are solved now.
It's the fact that there's nothing to watch. The other week, with the football on, I was bored to tears. I could not find a decent bit of TV to watch at all, for several days. In the end I reverted to my personal archives and a boxset that I forgot I had bought. YouView isn't solving a problem. It's just adding to it. It's now easier to find tons of stuff that I don't want to watch and no harder to find what I do (because for things I *DO* want to watch, I know when it's on, what time it's on, how long the series lasts, and whether it's a "compilation" episode or not - and I can timeshift it as appropriate).
Stop the technology. iPlayer solved most of the problems there (and the only one which remains is bandwidth, which YouView doesn't solve). Start the content. Gimme things to watch on this wonderful new service. Don't put on old stuff in HD, or archives on repeat (unless I specifically WANT to watch something from the archives - just how hard is it to just put EVERYTHING online, no matter how old?).
Gimme something to WATCH. Everything else is sorted, and has been for years, and all you've done is put it in a pretty (and pretty expensive) box that I already could have 5-6 of without even trying.
Gimme something worth watching on all that technology. All the last 10 years of TV technology has done is increase the noise and (sometimes literally) decrease the signal.
Sorry, YouView, but I so don't care. I didn't get rid of all the all-too-often unused boxes from underneath my telly only to get another one. My Bravia has BBC iPlayer, that'll do me.
Re: You won't get a Freesat or Freeview HD box with DLNA server
DLNA is required in the YouView spec