RIM boss denies cratering Canucks are in 'a death spiral'
If only Apple and Google would get their boots off his throat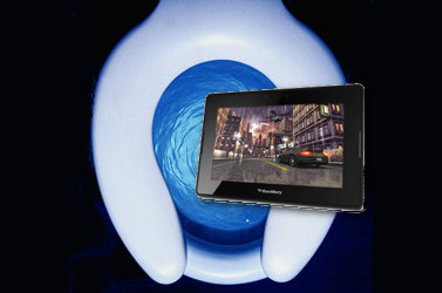 RIM CEO Thorsten Heins has insisted that the troubled phone maker is not in "a death spiral" and will emerge successfully from its current travails.
In a radio interview with the Canadian broadcaster CBC, Heins expressed disappointment with the recent delay to the launch of BlackBerry 10 operating system. But he claimed the new platform will revive company fortunes after previous management had dropped the ball.
"RIM was very successful with BlackBerry and I think we were very optimistic in that it would carry us forward forever, which it obviously doesn't do," he said. "The market has evolved, new technologies came in and we were probably a bit slow in adapting."
After one of the understatements of the decade, he acknowledged that some of his earlier pronouncements on the company's prospects were overly optimistic. But he pointed out that has been in the CEO job for just six months and now had a much clearer take on the company's prospects.
Heins joined the company four years ago, was one of two chief operating officers prior to taking the top job, and has spent the last six monhts clearing out dead wood. In January co-CEOs Jim Balsillie and Mike Lazaridis were eased out of the company and software CTO David Yach and global COO Jim Rowan were also shown the door.
Since Heins took the helm, RIM has stopped giving predictions on its performance, and in its last financial results posted losses of $518m and announced 5,000 job redundancies. Over the past three months, RIM has sold 7.8 million handsets – to put that in perspective, Google last week reported a million new Android activations every day.
Heins said sales were rising in Asia and Latin America, and that there are countries where RIM was the number-one seller. But sales are plummeting in North America, and Heins said his hope is that BlackBerry 10 would stop the rot.
"I'm positive we will emerge successful," he said. Well he would, wouldn't he? ®
Sponsored: Minds Mastering Machines - Call for papers now open